International action for Ana Belen Montes
Campaign News | Monday, 31 October 2016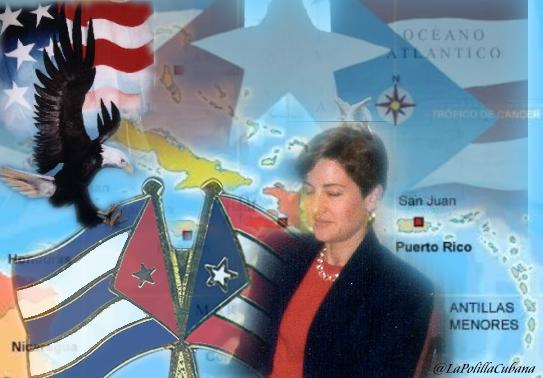 Irish Nobel Prize Laureate, Mairead Maguire, has sent a letter to President Obama calling for the release of Ana Belen Montes, a Puerto Rican woman who has been imprisoned in the US for more than 15 years for passing information to Cuban intelligence officers:-
President Obama,
Ana Belen Montes has been diagnosed with breast cancer and recently operated on.
She has served more than 15 of a 25-year sentence.
Friends and family are very concerned for her well-being.
Ana believed that what she did was necessary to prevent a US military intervention against Cuba based on lies, misinformation and geo-political ambition.
She pleaded guilty as charged and has accepted her sentence with dignity and grace.
Had others shared her courage and conscience, many hundreds and thousands of lives in other places that have been lost and destroyed since by unwarranted and unjustified wars could have been saved.
Many US and Cuban lives were not exposed to the risks of an unnecessary war as a result of the actions Ana fully understood the potential consequences of.
Mr. President, due in no small part to your own courageous initiatives, Cuba-US relations have changed along the very lines that Ana profoundly believed would be best for both countries.
When you said in Havana last year that you were there to lay the last vestiges of the cold war in Latin America to rest, the thoughts of many turned to Ana.
I believe she has paid her debt to society and that her illness and present condition require that she be urgently released.
Please do so.
By virtue of circumstances, history and politics, Ana was sent to jail for believing profoundly in something you in fact made happen on US-Cuba policy some years later.
In a spirit of mercy, forgiveness and compassion -- and in the context of the new era in Cuba-US relations that will form part of your presidential legacy, I ask you, as a fellow Nobel Peace Laureate, to release Ana on humanitarian and compassionate grounds.
In the meantime, I also most respectfully ask that some of the more harsh conditions of her detention be eased so that she can, in this time of illness and worry, send and receive letters and be comforted by the love and solidarity of the many who understand her motivation and are concerned for her life.
Changes on the political landscape mean that the reasons for such measures no longer apply and Ana's condition and illness warrant that she be treated with mercy and kindness.
With sincere thanks for your attention to my plea on behalf of Ana,
In Peace and Hope,
Mairead Maguire
NOBEL PEACE LAUREATE
About Ana Belén Montes
Ana Belén Montes is a Puerto Rican woman serving a 25-year prison sentence for passing information to Cuban intelligence agencies. She has already served 15 years in the Psychiatric Unit Detention Centre at the Federal Medical Center, Carswell in Fort Worth, Texas.
The terms of her imprisonment are extremely harsh. She cannot receive visits, email or calls or use a computer. There are only a small number of people to whom she has access, including her mother.
At her trial in 2002, she explained the reasons for her actions:
"I engaged in the activity that brought me before you because I obeyed my conscience rather than the law. I believe our government's policy toward Cuba is cruel and unfair, profoundly unneighborly, and I felt morally obligated to help the island defend itself from our efforts to impose our values and our political system on it.
"We have displayed intolerance and contempt toward Cuba for most of the last four decades. We have never respected Cuba's right to make its own journey towards its own ideals of equality and justice. I do not understand why we must continue to dictate how the Cubans should select their leaders, who their leaders cannot be, and what laws are appropriate in their land. Why can't we let Cuba pursue its own internal journey, as the United States has been doing for over two centuries?"
"My greatest desire is to see amicable relations emerge between the United States and Cuba. I hope my case in some way will encourage our government to abandon its hostility towards Cuba and to work with Havana in a spirit of tolerance, mutual respect, and understanding."
In October 2016, Ana was diagnosed with breast cancer and underwent a mastectomy. She is currently receiving chemotherapy.
René Gonzalez of the Miami Five has asked people to write to Ana. He said:
"Ana Belén Montes, the courageous Puerto Rican woman imprisoned for protecting Cuba from the US policies of aggression, has been operated [on] because of breast cancer. … Although she is not allowed to receive mail, the message of thousands of letters arriving to her prison door would surely be a powerful one. Please join in this effort and write a letter or a postcard to Ana."
What you can do
If you would like to take action you can:
Write to President Obama at info@mail.whitehouse.gov asking for a compassionate release

Write to the US Prisons Authority at Carswell Prison at crw/execassistant@bop.gov

Write to Ana at the contacts below. Although she is only able to receive emails from a small list of family members if you write to her she will learn of your support and know she is not alone.

Post: ANA BELÉN MONTES 25037-016, FMC Carswell, Federal Medical Center, PO Box 27137, Fort Worth, TX 76127

Email: abm-@googlegroups.com and anaBelénmontes2015@gmail.com
---