Eric Roberts: a true friend of Cuba
Campaign News | Friday, 25 November 2016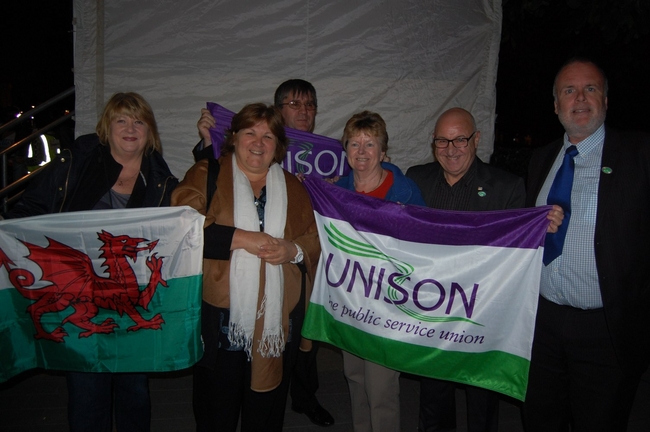 Eric Roberts, Unison President died suddenly on Thursday 24 November. Eric was a good friend of Cuba and had worked for many years to forge links between the British and Cuban trade union movement, especially between health workers in Cuba and Unison.
Below are statements from CSC, the CTC and Unison's Dave Prentis. Messages can be left on the Unison page here.
Message form the Cuba Solidarity Campaign:
We were deeply saddened to hear of Eric's sudden death. Eric had been a wonderful friend to the people of Cuba and the British solidarity movement for many years.
Eric dedicated most of his working life to the ambulance service and representing health workers as branch secretary, and for many years a member of UNISON's NEC. He was one of the first to offer solidarity to Cuba in the late 1990s during the economic crisis of the 'Special Period', and became a driving force of the ambulances to Cuba project in the early 2000s. His commitment to forging links between British and Cuban health workers within UNISON continued with other projects including providing equipment for the Havana Ambulance Service control room.
Eric was a great supporter of the Cuba Solidarity Campaign and attended many of our events over the last 20 years, including regularly speaking at the candlelight Vigil for the Miami Five outside the US embassy.
In his presidential year he was looking forward to attending May Day in Cuba and welcoming comrades from Cuba's health and administration unions to Britain as international guests at UNISON's National Delegates Conference. CSC had been discussing these events with him only recently and we know how proud he was to be representing the union as president.
It was a pleasure to work with Eric in solidarity with Cuba over the years and we will miss his passionate commitment, gentle manner and humour. He has left a lasting international legacy within UNISON that will continue to inspire us in all our efforts on behalf of Cuba. The finest tribute we at CSC can make to Eric is to continue his work in solidarity with Cuba and maintaining the bonds and friendship between the people of Cuba and the UK both within UNISON and the wider trade union movement.
On behalf of the Cuba Solidarity Campaign we would like to offer our deepest sympathy to Eric's family, colleagues and friends. Eric will be greatly missed by all of us at the Cuba Solidarity Campaign, and by his many friends and comrades in Cuba. We have lost a true and committed friend.
Click here to read a message in Spanish from the Cuban Workers Central (CTC)
Message from Dave Prentis and Unison:
Eric Roberts, a lifelong servant of our union, and of those in greatest need, has died after a brief struggle with cancer.
He was the President of UNISON, but more importantly he was a loyal and true friend to so many of us.
Born in Litherland, a proud Scouser and Liverpool fan, Eric was a man who lived enough – and had stories to tell – for more than one lifetime. From fixing drums for the Beatles, to wine waiter, baker and pots and pans seller – Eric eventually found his way to London. And one day, seeing an ambulance shooting down Oxford Street, he decided that's what he'd like to do.
He had found his calling. For 42 years he served the London Ambulance Service with the passion and dedication for which he became well-known, and his union as branch secretary, NEC member and – this year – our President. He was the first ambulance person to be elected as UNISON President – something that I know was a source of immense pride to Eric, his branch, his family and everyone who knew him.
Eric wasn't someone who sought out high office. Ambition wasn't what drove him. Instead, it was an unstoppable desire – a need – to serve people and help people. To represent them and to do his best for them.
To Eric, everyone in the union and the ambulance service had a part to play – and every day he did his job to the best of his ability, and brought out the best in others at the same time. His loyalty to this union was as unquestionable and unswerving as his love for its members.
I will miss his honesty. I will miss his infectious personality. But most of all I will miss his friendship. Eric Roberts was a good man who gave so much to so many people. Eric said upon his election as President that UNISON was the "best union in the country", but the truth is that Eric was the best of us.
Today, our thoughts are with his children Jack and Rhian, family, friends and colleagues, as our union mourns one of our biggest personalities, most loved friends and most powerful advocates for the values that sustain our union.
Eric Roberts – I will miss you.
Click here to read the message on Unison website and to send your message of condolence.
---