Fidel's Remains On Their Way ToRest
Morning Star | Thursday, 1 December 2016 | Click here for original article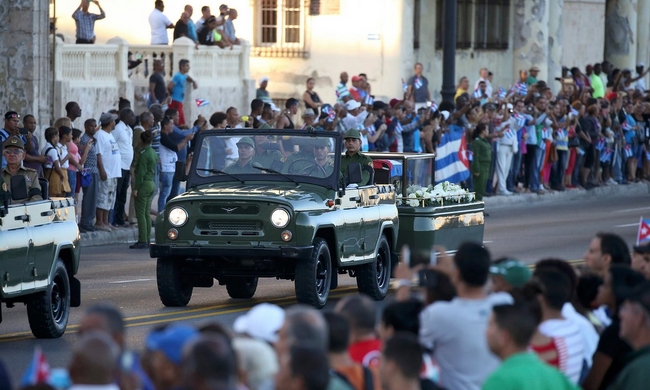 Fidel's Caravan of Liberty sets off
THE Caravan of Liberty carrying Cuban revolutionary leader Fidel Castro's ashes left Havana for their final resting place in Santiago yesterday morning.
El Comandante's mortal remains will follow as closely as possible the 500-mile route he took to victory from the eastern city to the capital in 1959.
They will be interred at Santiago's Santa Ifigenia cemetery in a ceremony on Sunday, marking the end of nine days of mourning.
On Tuesday night anti-imperialist leaders paid tribute at a mass rally in Havana's Revolution Square.
Cuban President Raul Castro called his late brother and comrade-in-arms the leader of a revolution "for the humble and by the humble."
Venezuelan President Nicolas Maduro said: "Fidel remains unvanquished, absolutely absolved by history."
Bolivian President Evo Morales said: "Fidel and Cuba changed the world," adding that the leader "will be forever among us.
"He has not died because his ideas do not die, because the battles do not cease, much less those who pursue their liberation."
Ecuadorean President Rafael Correa quoted late Venezuelan "people's singer" Ali Primera, saying: "Those who die for life cannot be called dead."
South African President Jacob Zuma hailed the contribution of Cuba's decades of "selfless sacrifice" in Africa's struggle against colonialism and apartheid.
"Cuba was not looking for gold, diamonds or oil in Africa," he said.
"The Cubans only wanted to see freedom and an end to the treatment of Africa as a playground of powerful nations while people suffered."
Mr Zuma recalled the late ANC president Oliver Tambo's address in Havana in 1979, when he said Africans had come to know the Cuban people "not merely by meeting them in their own country but because they live with us in Africa, they fight with us, they die with us, they fail and they win, with us. They have become part of the struggling people of our continent."
Mr Zuma said: "We must strengthen the voice of the south and deepen collaboration within the Group of 77 and China, within the Non-Aligned Movement and now also within Brics [Brazil, Russia, India, China and South Africa]."
---