'Fidel, Fidel: Ever Onward To Victory'
Morning Star | Monday, 5 December 2016 | Click here for original article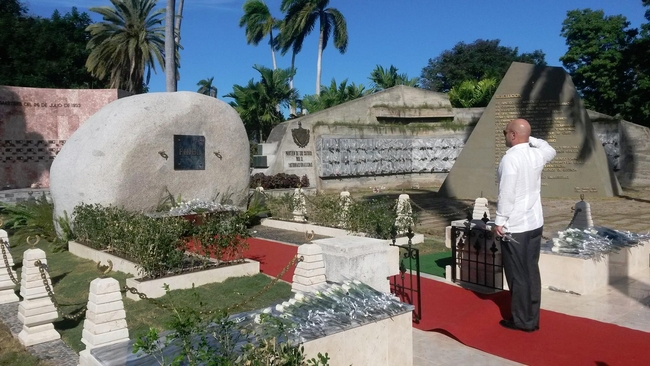 Cuba reaffirms its socialism as revolutionary leader is laid to rest
REVOLUTIONARY leader Fidel Castro was laid to rest in Santiago de Cuba yesterday, ending nine days of national mourning.
His ashes were interred at the city's Santa Ifigenia Cemetery, where 19th-century independence hero Jose Marti and Fidel's revolutionary comrade Frank Pais also rest.
Thousands of people, many weeping, lined the streets to pay their last respects as the jeep carrying his remains passed thorough the city where the fallen leader led the July 26 1953 attack on the Moncada Barracks, beginning the Cuban revolution.
On Saturday night hundreds of thousands crowded the city's Antonio Maceo Revolution Square for a final tribute attended by foreign dignitaries.
They included former Brazilian presidents Luiz Inacio Lula da Silva and Dilma Rousseff, Venezuelan President Nicolas Maduro, Bolivia's Evo Morales and Nicaragua's Daniel Ortega.
Several of the late leader's friends, including Argentinian football legend Diego Maradona and US actor Danny Glover, were also present.
President Raul Castro reaffirmed the Cuban people's commitment to the revolution, exclaiming: "Fidel, Fidel, ever onward to victory!
"Let us swear to defend the homeland and socialism," he said. He quoted the "Bronze Titan," independence hero Antonio Maceo, who said: "Whoever tries to take Cuba will collect the dust of its soil flooded with blood if he doesn't perish in the struggle."
"The permanent teaching of Fidel is that it is possible that people are able to overcome the harshest conditions if their will to win does not falter," he said.
"That is the undefeated Fidel that summons us with his example and with the demonstration that yes we could and yes we can overcome any obstacle."
Gerardo Hernandez, leader of the Miami Five anti-terrorist heroes, who spent 16 years in US jails, paid tribute to the revolutionary's unwavering commitment to winning their freedom.
"We will never forget that Fidel raised his voice in the name of the people and when it seemed impossible for the Five to return to their homeland," he said.
"He promised that we would come back, and we are here."
Mr Hernandez said it was consolation for the "immense pain" of his loss that Fidel was able to embrace the Five and enjoy their return to "the beloved land," a victory not only for the people and international solidarity but for Fidel personally.
He said he was encouraged by "the firmness of a people committed to follow his legacy, to be faithful to his example and to perpetuate it, especially in the new generations," including his own unborn twins.
---