'Fidel Will Live On,' Havana's Envoy Tells Memorial Event
Morning Star | Wednesday, 7 December 2016 | Click here for original article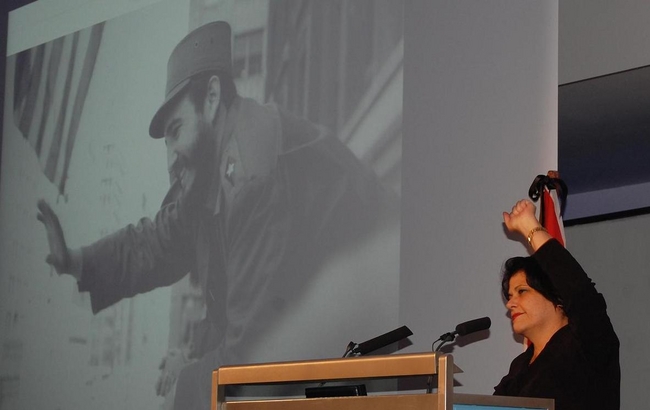 REVOLUTIONARY leader Fidel Castro was remembered at a moving memorial service organised by the Cuba Solidarity Campaign on Monday night.
Ambassadors, trade unionists and politicians were among those who heard speeches, music and poetry as the life of the former Cuban president was celebrated at Congress House.
Cuban ambassador Teresita Vicente led tributes outlining the socialist island's many achievements under Castro and, on behalf of the Cuban people and the Cuban revolution, thanked those gathered at the service.
She declared: "Those who die fighting for life cannot be called dead. Fidel will live on."
Ms Vicente also said that the fight to build a "just and peaceful world" would continue, because "men die, but not ideas."
She recalled the contributions that Cuba has made to health and education across the globe, adding: "Our internationalism is to pay off our debt to humanity."
The Cuban revolution was successful because it stayed "loyal to principles, close to the people and we were confident that we were fighting a just cause," the ambassador explained.
And it was because Fidel said "no to corruption, no to abuse of power, no to the cult of personality but yes to Marxism-Leninism, yes to solidarity … and a total dedication to the people" that the revolution survived.
Cubans would "rather die standing than live on our knees," she thundered as she vowed that the fight to end the "criminal economic blockade" and for the return of Guantanamo to Cuban sovereignty would go on.
"Viva the revolution, viva Cuba, viva Fidel," she said to a standing ovation.
Writer and journalist Tariq Ali lamented the "loss of the last revolutionary giant," while Labour MP Richard Burgon hailed Castro as a "man of idea and action, an activist and a politician" as he lauded "the most successful revolutionary in human history."
Angolan ambassador Lieutenant-Colonel Rui Goncalves said that it if wasn't for Castro, he wouldn't have been standing there yesterday, as he described how "Fidel saved Angola" from apartheid South Africa's army.
There were long queues to sign the book of condolences and Cuba Solidarity Campaign chair Diana Holland said it had received an overwhelming response.
Cuba Solidarity Campaign national secretary Bernard Regan closed the memorial with a reminder of the "unique contribution of the Cuban revolution in changing the course of history."
He also echoed the ambassador in promising that the fight to defend the gains of the revolution would continue.
by Steve Sweeney at Congress House
---