Cuba and Google Sign New Deal for Speedier Service
Telesur | Wednesday, 14 December 2016 | Click here for original article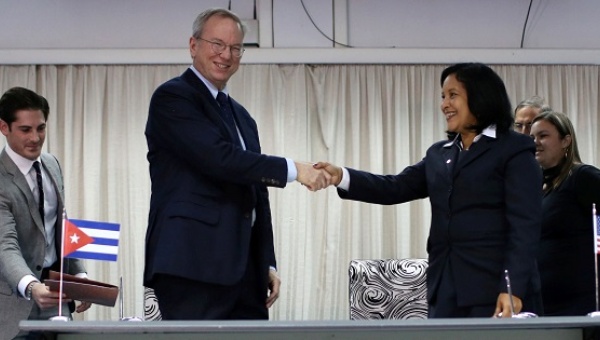 Cuba and the United States have forged a number of bilateral deals, but business ties have been slower to develop as the U.S. blockade remains in place.
Amid ongoing normalisation of ties between Cuba and the United States, the government of the Caribbean nation signed a deal Tuesday with U.S. technology giant Google that will pave the way for faster access of the company's branded services like Gmail and Youtube.
The deal, signed by Eric Schmidt, chairman of Google's parent company Alphabet Inc. and Mayra Arevich Marin, president of Cuba's state telecommunications monopoly ETECSA, establishes an agreement for Google to store data in Cuba. By doing so, it will eliminate the current need for the long-distance travel of signals from Venezuela to the island.
"This deal allows ETECSA to use our technology to reduce latency by caching some of our most popular high-bandwidth content like YouTube videos at a local level," explained Google in a statement. The immediate impacts the deal will have on internet service remain unclear, as the agreement is specifically related to access to Google-run products, not internet service overall.
"Cubans who already have access to the internet and want to use our services can expect to see an improvement," Marian Croak, Google's vice president for access strategy and emerging markets, and Brett Perlmutter, head of strategy and operations for Google Cuba and the lead negotiator of the deal, wrote in a blog post.
In recent months, Cuba and the United States have struck a number of bilateral deals ranging on issues from environmental protection to direct mail, but business ties have failed to keep pace thanks to the ongoing punitive U.S. economic blockade on Cuba.
In September, the Cuban government announced plans to roll out free Wi-Fi along a 5-mile stretch of its iconic boardwalk, the Malecon. President Raul Castro said that the installation of paid internet access along Havana's seaside esplanade will be finished before the end of the year and will soon be equipped with Wi-Fi.
---