Ambassador thanks CSC supporters for hurricane support
Campaign News | Saturday, 31 December 2016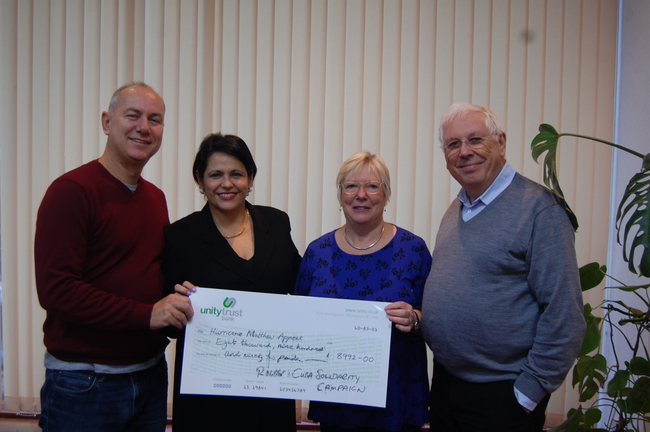 The Cuban ambassador, HE Teresita Vicente has sent a thank you letter to CSC supporters who donated to the Hurrican Matthew relief appeal.
The categroy 4 hurricane, which struck the island's eastern provinces on 4 October, washed away bridges and roads, shut down electrical and communications services, and destroyed or damaged more than 90 per cent of homes in the coastal town of Baracoa.
Responding to CSC's appeal, CSC supporters have so far contributed almost £9,000 to Cuban relief and reconstruction efforts.
"I would like to express my sincerest appreciation on behalf of the Cuban people, for the donation of £8,992 as a solidarity contribution to the relief efforts following the devastating Hurricane Matthew, which hit the eastern part of the island.
"Rest assured that these funds will be an important donation to all the works that are being undertaken in the construction of reconstruction of houses and facilities seriously damaged as well as in the recovery programmes mailing in the health and agricultural sectors.
"Please, convey our warmest thanks to the members of CSC, as well to many individuals, Trade Unions and organisations that have so generously donated to this fund.
"International Solidarity is a cornerstone in our lives and an inspiration to go ahead in our purpose to build a better world."
Water, communication and electricity supplies have now been restored, roads and streets unblocked, and damaged crops harvested and salvaged were possible. Within days bank loans and subsidised materials were made available to repair and rebuild damaged properties. Reconstruction projects, including rebuilding the 225 metre Rive Toa Bridge, will take many more months. However, unlike in nearby Haiti where 1,000 people died, Cuba managed to avoid any loss of life thanks to its Civil Defence and disaster preparedness programmes which were praised by the UN.
CSC believes that one of the best ways to help the Cuban people recover from this humanitarian disaster is the immediate lifting of the US blockade to allow essential construction materials and food aid to be delivered and will continue to campaign for an end to this illegal and inhumane policy.
Thank you all once again for your support and solidarity with the Cuban people.
---