New Miami Five Freedom Tour film
Campaign News | Sunday, 1 January 2017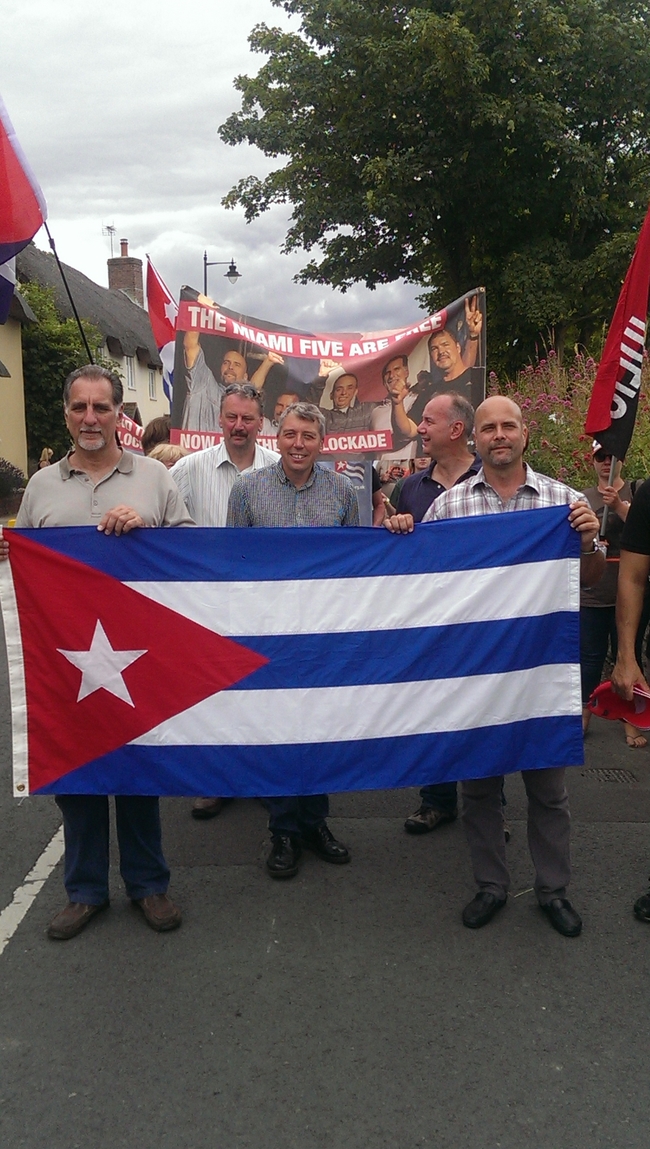 In July 2016 CSC was proud to welcome René Gonzalez and Gerardo Hernández of the Miami Five to Britain for the long awaited Freedom Tour.
After sixteen years fighting for their freedom from US jails, and a two year battle against the Home Secretary for visas to visit Britain, René Gonazalez and Gerardo Hernández finally touched down on UK soil in the early hours of Friday 7 July 2016.
In the short time they were here for the Miami Five Freedom Tour, the two Cuban anti-terrorist fighters travelled more than 2,000 miles to speak at the most prestigious events in the British trade union and labour movement calendar. In just nine days they addressed thousands of people at the Durham Miners' Gala, the Tolpuddle Martyrs' Festival, Unite Policy Conference, public rallies in Glasgow, Manchester, Cardiff, and London, and were received by MPs and trade union leaders at parliamentary and trade union receptions.
They were accompanied by their wives, Olga Salanueva and Adriana Pérez (currently expecting twins), and daughters 31 year-old Irma González and 18-month old Gema Hernandez.
Despite months of planning the long awaited Freedom Tour took place with just 48 hours notice of the entry visas being granted. The Home Office fought to the last moment to delay their entry; only the threat of legal action and hundreds of CSC members contacting their MPs to put pressure on Theresa May, overturned the decision at the last minute.
The campaign to free the Miami Five and subsequent struggle for their visas received exceptional support from the British trade union movement, parliamentarians and thousands of CSC supporters all over the country. The Miami Five Freedom Tour aimed to ensure that as many people as possible who had supported their fight for justice, written to them in prison and who had played a key role in achieving both their freedom and their visas could hear from the men in person.
Watch the new film of the UK tour highlights here or click on the video above. Read a full report and see pictures from the Freedom Tour here.
---