US Legislators Favour Advancement of Relations with Cuba
ACN | Friday, 24 February 2017 | Click here for original article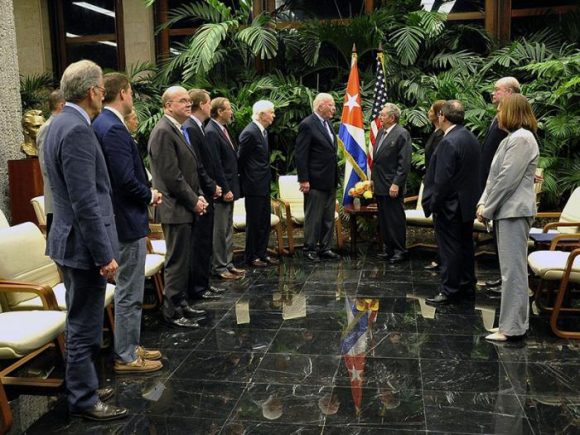 HAVANA, Cuba, Feb 23 (ACN) A US congressional delegation stressed the pace of current US-Cuba efforts towards the improvement of bilateral links, during a visit to Havana, where they were received by President Raul Castro.
During a press conference on Wednesday, Senator Patrick Leahy (D-Vt.) stressed the scope of 22 accords reached between the two countries in the areas of the environment, law enforcement and other aspects by saying that "this is what the majority of US citizens want."
Leahy said that the US entrepreneurial sector and the education and scientific communities are interested in exchanging with Cuba and he added that the Trump administration will listen to those who favour the advancement of efforts towards the improvement of bilateral relations.
"The lift of the embargo is unavoidable... and the sooner the better," said Leahy, who has been very active in building the bridge between Washington and Havana.
The US congressional delegation included Thad Cochran (R-MS), Thomas Udall (D-NM), and Michael Bennett (D-CO), and representatives James McGovern and Seth Moulton, both democrats.
Following the December 2014 announcement and the call by former President Barack Obama on Congress people to work towards the lift of the US blockade of Cuba, there has not been any major action in that direction.
However, some draft bills on the issue are now in the works, as James McGoven (R-MASS) explained that he is co-sponsoring a bill on travels to Cuba, with the support in the Senate of Republican Jeff Flake.
During the press conference, the US legislators referred to their meeting with Cuban President Raul Castro on Tuesday. They noted that Cuba has been crystal clear as to its position, as they cited statements by Raul Castro in his speech at the 5th Summit of the Community of Latin American and Caribbean States, held n the Dominican Republic.
On that occasion, Raul Castro reiterated Cuba´s willingness to keep negotiating bilateral issues with the United States on equal grounds and respect for the sovereignty and independence of the island, and keep on with the respectful dialogue and cooperation in issues of bilateral interest with the administration now headed by President Donald Trump.
---