500 Ex-FARC Rebels and 500 Colombian Victims to Get Medical Scholarships to Study in Cuba
Telesur | Thursday, 16 March 2017 | Click here for original article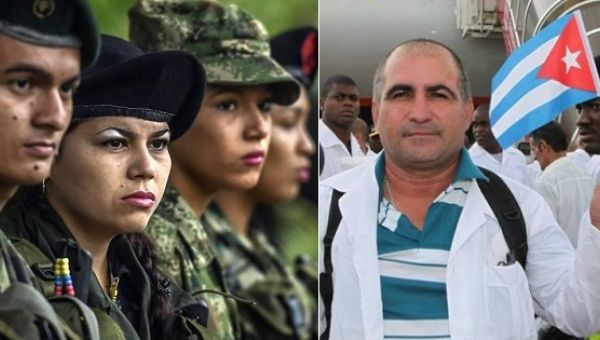 Cuba has extended its hand to Colombia to support the country's first steps in building peace after more than 50 years of war.
Five hundred former FARC rebels and 500 Colombian civil war victims are set to receive scholarship to study medicine in Cuba as part of a gesture of solidarity from Havana to give a boost to the South American country's budding new era of peace.
Cuba will offer a total of 1,000 medicine scholarships to Colombia over the next five years, handing out 100 per year to the ranks of the demobilised FARC guerrilla and another 100 to the government to distribute to aspiring Colombian doctors who were displaced or otherwise affected by the armed conflict.
The first 200 scholarships will be handed out for the 2017-2018 academic year for students to begin their studies in Cuba in September.
The scholarship program was unveiled in a letter penned by Cuba's ambassador to Colombia, Jose Luis Ponce Caraballo, to FARC lead and chief peace negotiator, Ivan Marquez.
In the letter, dated Tuesday, Ponce Caraballo wrote that Havana wished to provide the scholarships as a contribution to Colombia's post-conflict development and in support of the peace agreements that brought an end last year to over half a century of internal armed conflict between state forces and the FARC, Colombia's largest rebel army.
Marquez thanked Cuban President Raul Castro for his support, extending in a message on his Twitter account "gratitude for filling Colombia with love and solidarity."
"You help peace and you offer us doctors," the FARC leader added in his message to the Cuban leader. "Cuba's contribution to the process of implementing the Havana Accord and to the post-conflict (era) in Colombia is a pure gesture of humanity."
Colombia's historic end of conflict deal was negotiated in Havana over the course of four years, hitting a breakthrough last August with a final agreement to end the civil war that has claimed the lives of over a quarter of a million Colombians.
Now, the FARC is demobilising. Some 7,000 rebels have gathered in transition camps across the country to lay down their weapons and prepare to reintegrate into civilian life, while the guerrilla army is set to reorganize as a political party that will participate in elections beginning next year.
Cuba has a long history of supporting Colombia's peace process. In 2008, late Cuban revolutionary leader and former President Fidel Castro published a book titled "Peace in Colombia," fulfilling a longstanding desire to write about the topic.
"Other issues have occupied my time," he wrote in the introduction to the book. "Now I fulfill my promise."
Decades earlier, in an iconic speech to the Cuban people in 1962 — two years before the FARC took form, organised by armed campesinos fighting against inequality — Fidel Castro likened revolutionary struggle for a new society to the work of a doctor bringing a baby into the world.
"The revolution is in history like the doctor who assists at the birth of a new life," said Fidel, who in his book years later expressed disagreement with some of the strategies of the FARC's revolutionary method. "It does not use the tools of force need­lessly, but will use them without hesitation whenever necessary to help the birth, a birth which brings to the enslaved and exploited masses the hope of a new and better life."
Colombia's 52-year civil war claimed the lives of 260,000 Colombians and displaced more than 7 million more. The rights of victims of the conflict, a focus on truth and reconciliation and ensuring the participation of former FARC rebels in society and politics were key cornerstones of the agreement that brought an end to the long-running conflict.
Now, both victims and former guerrilla fighters will benefit from Cuba's medical training to give back to their country in a valuable way as it embarks on the path toward building "stable and lasting" peace.
Cuba is globally renowned for its high-quality doctors, medical internationalism and medical innovation and training. In Colombia, medical school is one of the most expensive post-secondary programs.
---