Cuba Launches Revolutionary Feminist Postal Stamps
TeleSur | Monday, 22 May 2017 | Click here for original article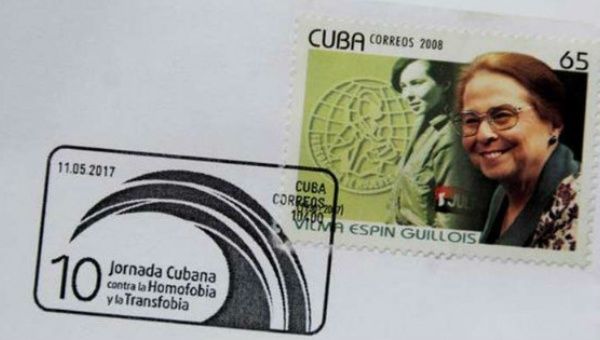 Activists and representatives of national institutions participating in the 10th Cuban Assembly Against Homophobia and Transphobia in Havana and Villa Clara issued the first postal stamp on 11 May, which features a polychrome image of Vilma Espin.
Espin, Cuban President Raul Castro's deceased wife, was the founder of the Federation of Cuban Women, an organization dedicated to promoting the rights of women and the LGBTQ community.
The stamp was officially released at the headquarters of the Union of Writers and Artists of Cuba, UNEAC, Prensa Latina reported.
At the event, UNEAC President Miguel Barnet emphasized the need to "eliminate stereotypes and prejudices that curb the well-being of men and women." Cuban Philatelic Federation President Raul Lorenzo echoed similar sentiments, stating that the purpose for issuing the stamp is to pay homage to Cuban history and its continued efforts to guarantee that all islanders benefit from equal rights.
The 10th Cuban Assembly Against Homophobia and Transphobia ran from May 3 – 20. It began with a presentation of an educational campaign titled "Me Included." This year's theme focused on homophobic and/or transphobic bullying at schools. Every two years, the conference renews its theme based on an issue related to human rights.
On 12 May, a cultural gala was held in honor of equal rights. A conga and performances on Saturday 13 May were also held in Havana to promote gender and sexual diversity.
Espin was one of the most-widely recognized women soldiers who fought in the Sierra Maestra mountains leading up to the 1959 Cuban Revolution. She later became a tireless advocate for women's rights and a leading member of the Cuban Communist Party.
---