'A grotesque spectacle': Cuba decries Trump's policy toward island
The Guardian | Tuesday, 20 June 2017 | Click here for original article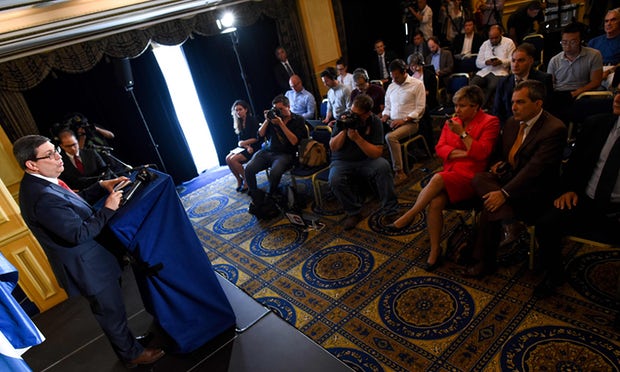 Cuba's foreign minister has described Donald Trump's speech outlining a new policy towards the island as a "grotesque spectacle", saying that "we will never negotiate under pressure or under threat" and refusing to return US fugitives who have received asylum in Cuba.
In a combative response to Trump's policy, the foreign minister, Bruno Rodriguez, said in Vienna that Trump's restrictions on transactions with the Cuban military would not achieve their objective of weakening the government.
Trump announced a partial rollback of the normalization of relations with Cuba on Friday, in Miami, the heartland of Cuban exiles, in a theater named after the leader of the failed US-backed Bay of Pigs invasion of the island in 1961.
"It was a grotesque spectacle straight from the cold war," Rodriguez said in Vienna, during a tour of European countries, in a news conference broadcast live in Cuba.
"We will never negotiate under pressure or threat," he told reporters.
"Cuba will make no concessions on its sovereignty and its independence, will not negotiate over its principles and will never accept [imposed] conditions," he added.
Rodriguez added that the island's government will continue working towards better relations with the majority of Americans who back detente.
Rodriguez also said that fugitives such as Assata Shakur – formerly known as Joanne Chesimard – would not be returned because the US had no "legal or moral basis" to demand their return.
"Cuba conceded political asylum or refuge to US fighters for civil rights," Rodriguez said. "These persons will not be returned to the United States."
Shakur was granted asylum by Fidel Castro after she escaped from the prison where she was serving a sentence for killing a New Jersey state trooper in 1973 during a gun battleafter being stopped on the New Jersey Turnpike.
Shakur – who has maintained her innocence – was Tupac Shakur's step-aunt and godmother.
The US president stopped short of breaking diplomatic relations with Cuba, restored in 2015 after more than five decades of hostility, and the Trump administration has left many recent agreements between the two countries intact.
However, it will tighten restrictions on Americans traveling to the Caribbean island, hurting the booming Cuban tourism industry and clamping down on US business dealings with Cuba's military.
Trump announced that the US would impose new limits on US travelers to the island and ban any payments to the military-linked conglomerate that controls much of the island's tourism industry. Trump also declared: "The harboring of criminals and fugitives will end. You have no choice. It will end."
He said the US would consider lifting those and other restrictions only after Cuba returned fugitives and made a series of other internal changes including freeing political prisoners, allowing freedom of assembly and holding free elections.
Rodriguez said the new measures would inevitably hit US companies and citizens by restricting their ability to invest in or travel to Cuba, while also hurting the Cuban people.
"It will wreak economic damage not just on Cuba's state companies but also on the cooperatives and private sector workers," he said.
Rodriguez' response Monday was a clear signal that there could be very little, if any, high-level US-Cuba negotiation during Trump's time in office.
While working-level meeting on topics such as search-and-rescue have taken place since Trump took office, no meetings between top diplomats have occurred.
It's a sharp contrast to Obama's last year as president, during which top US and Cuban diplomats met regularly to discuss topics including law-enforcement cooperation and compensation for Americans whose property was taken during the 1959 Cuban revolution.
"Cuba will not make concessions that harm its sovereignty," Rodriguez said. "We have never done in the history of the revolution."
---