US State Department drops Cuba entirely from annual detail of terrorist activity
Miami Herald | Friday, 21 July 2017 | Click here for original article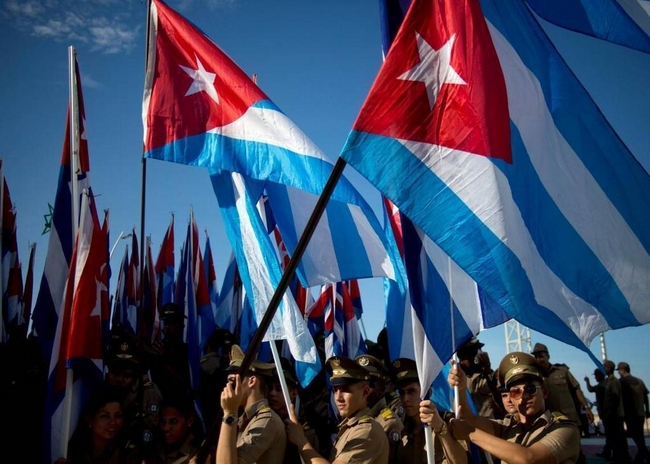 For the first time, Cuba is not included in the US State Department's report on terrorism
After spending 33 years designated a state sponsor of terrorism by the U.S. government, Cuba no longer has any activity that even merits its own report in the State Department's annual review of terrorist threats around the world.
"It was assessed that there was not sufficient information there to provide a report this year on Cuba," Justin Siberell, the State Department's acting coordinator for counterterrorism, told reporters Wednesday.
After Cuba was taken off the state sponsor of terrorism list in 2015, only Iran, Sudan and Syria remain labeled the worst of the worst. Other countries are included in the congressionally mandated Country Reports on Terrorism based on relevant information gathered by the State Department on terrorist activity within their borders.
The 2015 report, released in June 2016, included paragraphs on Cuba in the section on the Western Hemisphere, but the language did not express concern over terrorist activity on the island or support for terrorism by the nation.
But the 2016 report, released Wednesday, had no mention of the island nation. Siberell said no relevant information on Cuba was found by the State Department.
"Cuba was removed, and there is no requirement within the report for an individual chapter on every single country," Siberell said. "We produce chapters in the country reports based upon material, frankly, to include."
The report released Wednesday included sections for several other Latin American countries: Argentina, Brazil, Colombia, Mexico, Panama, Paraguay, Peru, Trinidad and Tobago, and Venezuela. Cuba's only mention in the section on the Western Hemisphere appears in the passage on Colombia, in reference to that country's role as a transit point for smuggling Cubans trying to reach the U.S.
Each year the report, categorised by country, details terrorist threats across the globe. The most severe offenders — governments found by State to repeatedly provide support for international terrorism — are labelled formally as state sponsors of terrorism. As in recent years, the 2016 report heavily focused on the activity of the Islamic State and al Qaeda, largely concentrated in the Middle East and Africa.
The state sponsor of terrorism designation brings with it a host of sanctions, including bans on arms sales and prohibitions on economic assistance. A country remains on the list until a formal review is conducted and recommends removal.
Cuba was originally put on the list in 1982 by the Reagan administration as a way to punish Cuba for support of guerrilla movements in El Salvador and Nicaragua and its close ties to the Soviet Union, but the Obama administration agreed to review Havana's state sponsor of terrorism designation after the two countries opened relations in December 2014. The review found that Cuba met the criteria to merit removal, which included finding no evidence that the country was supporting international terrorism and securing promises it would not do so in the future.
The State Department formally recommended that Cuba be removed on May 28, 2015, stating that "While the United States has significant concerns and disagreements with a wide range of Cuba's policies and actions, these fall outside the criteria relevant to the rescission of a state sponsor of terrorism designation."
Sen. Marco Rubio, R-Fla., objected strongly to Obama's detente with Cuba and has pushed President Donald Trump to adopt a more aggressive stance towards Havana. Trump announced last month that his administration was rolling back some of former President Barack Obama's Cuba reforms including on tourism and trade, arguing that the Cuban government hasn't sufficiently changed its behavior to merit the benefits of warmer ties with the U.S. Trump publicly credited Rubio and Rep. Mario Diaz-Balart, R-Fla., with influencing his Cuba policy.
In a June 16 speech in Miami announcing his cancellation of Obama's Cuba deal, Trump accused Havana of having harbored terrorists, but did not mention whether his new policy would include any effort to put the country back on the state sponsor of terrorism list.
The 2016 State Department reports found that worldwide that year, there were a total of 11,072 terrorist attacks resulting in more than 25,600 total deaths and more than 33,800 people injured. But overall, global terrorist incidents and deaths from terrorism were found to have decreased slightly. Those drops are attributed mainly to a decrease in terrorist activity and casualties in Afghanistan, Syria, Nigeria, Pakistan, and Yemen.
---