Hurricane Irma Cuba: Projected Path & Forecast
Heavy | Wednesday, 6 September 2017 | Click here for original article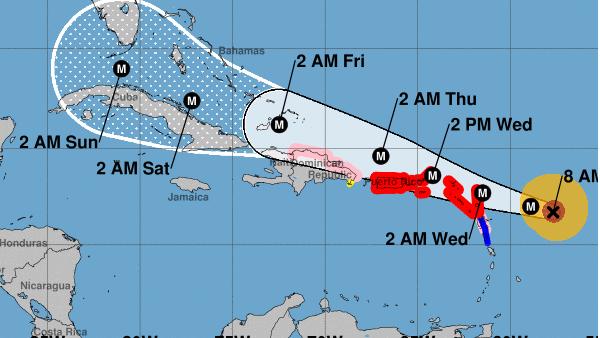 Hurricane Irma is now a Category 5 hurricane and will be devastating to the Caribbean. Cuba is right in the storm's path, with the latest trajectory showing Irma spending over a day above the 780-mile long island.
The latest projections from the U.S. National Oceanic and Atmospheric Administration show the storm reaching the U.S. territory of Puerto Rico by 2 p.m. Wednesday. It could reach Cuba by 2 p.m. Friday morning, with parts of the storm covering Cuba throughout the rest of the weekend. A public advisory notice from the agency notes that the storm is now a Category 5 as of 8:00 a.m. Tuesday. It is moving west at 15 mph and is about 100 miles east of Antigua.
"Maximum sustained winds are near 185 mph (295 km/h) with higher gusts," the NOAA said. "Irma is an extremely dangerous category 5 hurricane on the Saffir-Simpson Hurricane Wind Scale. Some fluctuations in intensity are likely during the next day or two, but Irma is forecast to remain a powerful category 4 or 5 hurricane during the next couple of days."
Hurricane warnings have already been issued for most islands in the Caribbean, including Puerto Rico, the U.S. and British Virgin Islands, Antigua, Barbuda, Montserrat and St. Kitts. Guadeloupe and parts of the Dominican Republic are also under a Hurricane Watch. "Interests elsewhere in the Dominican Republic, along with Haiti, the Turks and Caicos Islands, Cuba, and the southeastern and central Bahamas should monitor the progress of Irma," the NOAA cautions.
Cuba is vulnerable to hurricanes, and its government is famously well-prepared. Even the United Nations once praised Cuba as a "model in Hurricane risk management" in 2004. Jacobin Magazine notes that only 35 Cubans have died from the last 17 hurricanes. Last year's Hurricane Matthew didn't kill anyone in Cuba, although it killed 271 people in nearby Haiti.
As The New York Times noted in 2013, the National Prognostic Centre of Cuba's Meteorological Institute in Havana is responsible for monitoring the weather there. Before President Barack Obama resumed diplomatic relations with Cuba, hurricane preparedness was one of the few things American and Cuban officials worked together on.
Despite an older infrastructure, its hurricane preparedness plans that are taught to children in schools have saved countless lives. Children are even taught to identify at-risk trees and hazards in their neighbourhoods. During a storm, schools, hospitals and hotels become members of the Cuban Civil Defence force and are responsible for caring for residents, notes the Times.
Spaghetti models for Irma consistently show the storm hitting Puerto Rico and heading over the Dominican Republic, but once it reaches Cuba, they start to diverge. A few models have it making landfall at Cuba and crossing over the island. Others have it moving north of the island and not making landfall until it reaches South Florida.
---