Cuba Puts the West to Shame
Morning Star | Wednesday, 13 September 2017 | Click here for original article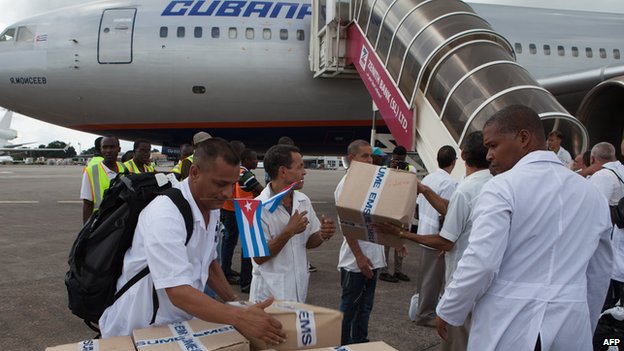 Morning Star editorial, Wednesday 13 September 2017
CUBA has often provided a graphic systemic contrast in how a socialist society reacts to human suffering compared with the conduct of more affluent capitalist states.
Its military volunteers flew to Angola in the 1970s to help defend the country's independence against invasion by apartheid South Africa's armed forces while the US and European Union stood by, profiting from their investments that exploited South Africa's oppressed black workers.
Cuban medical teams responded without drama to countless overseas disasters — such as earthquakes in Haiti and Pakistan or the Ebola epidemic in West Africa — and have established or improved health systems in dozens of developing countries.
Their literacy teams and sporting coaches work across the globe in a spirit of solidarity.
The Latin American School of Medicine in Havana provides free tuition for medical students from the region — and even from deprived areas of the US — in return for their agreement to provide the fruits of their training to poor people in their own countries as a service rather than as a means of self-enrichment.
Even as Cuba prepared to withstand the violent assault of Hurricane Irma — its category-five status the highest to hit the island for at least 90 years — the government's thoughts were with its neighbours.
No fewer than 750 medical professionals flew out to provide solidarity assistance to six regional states — five in the Commonwealth — Antigua & Barbuda, St Kitts & Nevis, St Lucia, Bahamas, Dominica and Haiti.
Contrast that forward planning with our own government's tardy response — shamed equally by France and the Netherlands — and the belated dubious gesture of dumping Boris Johnson on the region.
Irma's power surpassed even the expectations of Cuba's civil defence staff , forcing its flood waters deeper inland, devastating housing, tourism facilities, the infrastructure and agriculture.
Despite all precautions, 10 Cubans died during the three days that Irma laid waste to the island's eastern and northern coasts.
President Raul Castro has pledged that national unity, inspired by revolutionary leader Fidel Castro's historical example of refusing to accept defeat, will inspire Cubans to rebuild their country. He insists that the crucial revenue-earning tourist industry will be restored before high season in less than two months.
Self-reliance is Cuba's watchword, but solidarity cannot be a one-way street. It will be "very important for the Cuban people, especially over the coming months," as Cuban ambassador Teresita Vicente told the Morning Star yesterday.
Reconstruction, hard as it is, is rendered yet more difficult by "Hurricane Trump's" heightened aggression at the behest of the Florida-based anti-Cuban lobby.
The Cuba Solidarity Campaign relief fund publicised in our paper today (mstar.link/IrmaAppeal) will have a dual capacity in raising material solidarity for Cuba and drawing attention to the positive role played by this socialist island in an ocean of imperialist hostility.
You can donate to the Hurrican Irma appeal here
---