Blockade and 'Hurricane Trump' a threat to Irma recovery
Campaign News | Thursday, 14 September 2017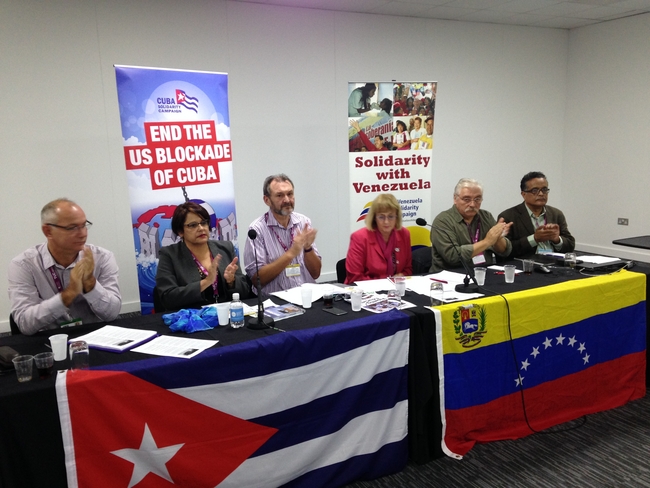 TUC Congress 2017 Cuba Solidarity Campaign fringe meeting report
Teresita Vicente, Cuba's Ambassador to Britain gave an update to TUC Congress delegates in Brighton on the devastating impact of Hurricane Irma, the strongest hurricane to hit Cuba since records began, which sadly killed 10 Cubans.
"The US blockade of Cuba is ongoing and is worse than ever - it will harm our recovery after Hurricane Irma.
"We are also facing Hurricane Trump. He has just signed the Trading with the Enemy Act on Cuba, extending the US blockade of Cuba and increasing its aggressive policy towards the island", she said.
"Despite the blockade and the devastating impact of Hurricane Irma, Cuba continues to show our solidarity with others" the Ambassador explained.
"We have sent over 750 doctors to neighbouring countries in the region also affected by the hurricane", she said, to huge applause.
The Ambassador thanked the British trade union movement for their solidarity in the struggle to end the US blockade and return the illegally occupied land at Guantanamo Bay back to the Cuban people.
Diana Holland, Unite Assistant General Secretary chaired the meeting. "The limited openings in Cuba-US relations made under Obama were rolled back this summer by President Trump in an attempt to appease hardline pro-blockade politicians at home.
"Trump's new policy tightens the blockade, and includes barring Cuban trade leaders from travelling to the US", she said.
Kevin Courtney, Joint General Secretary of the National Education Union (NEU - NUT Section) gave a passionate contribution of Cuba's achievements in education.
"Cuba is an example that when there is the political will to do it, education can be a priority, it can be free and universal, and it can be inclusive for all abilities and ages.
"We can learn from Cuba, they show that there is an alternative - there is a different way of doing things.
"Cuba is not a rich country - but it still spends 13% of its GDP on education, over twice the percentage of the UK. That means smaller classroom sizes and genuinely inclusive education.
"The blockade is illegal – it has to end. It costs the education system alone loses over $1.3 billion a year - this is shameful".
Kevin Courtney spoke about the blockade's impact on Britain due to its extraterritorial dimension, including the Open University's (OU) ban of Cuban students. The NUT (now NEU) has supported the campaign to end the ban and Kevin Courtney wrote to the OU to challenge the ban of Cubans in July.
"The blockade is illegal internationally and interventionist in our country", he said.
The NEU joint general secretary sent solidarity to Cuba following the Hurricane Irma: "We know that even in their hour of need, Cuba is extending solidarity with others. That is something that every country on earth should learn from".
"Instead of big armies, Cuba has huge medical brigades. It has a better health system than most rich countries, and when a country is in need, Cuba sends medics."
Rob Miller, CSC Director, gave an update on the Open University ban of Cubans:
"The OU ban is discriminatory, unfair and unjust. We've contacted over 30 British universities. They all accept Cuban students. It's only the Open University who bans Cubans.
"The OU case is the latest in a long line of British organisations being negatively impacted by US blockade legislation.
"WATG Holdings, a British design firm, were fined over $140,000 for designing a hotel to be built in Cuba; CSC had our Co-operative Bank accounts closed; British coffee shops have been instructed not to sell Cuban coffee online; British banks have been fined for carrying out transactions with Cuba, to name just a few examples" the CSC director said.
"Why does the blockade exist? The US State Department records show that it was introduced 'to create hunger, desperation and the overthrowing of the Cuban government.' We must never forget this."
"Cuba spends 51% of its budget on health, education and social care - this is why it's a threat of a good example", he added.
"Cuba has achieved so much, despite all the problems of the blockade. If the blockade was lifted, they could achieve so much more".
Join the campaign to end the US blockade or affiliate your trade union branch here
Donate to CSC's Hurricane Irma Appeal here
Read Teresita Vicente's interview with the Morning Star.
---