Solidarity with Cuba displayed at the Labour Party Conference
Campaign News | Tuesday, 3 October 2017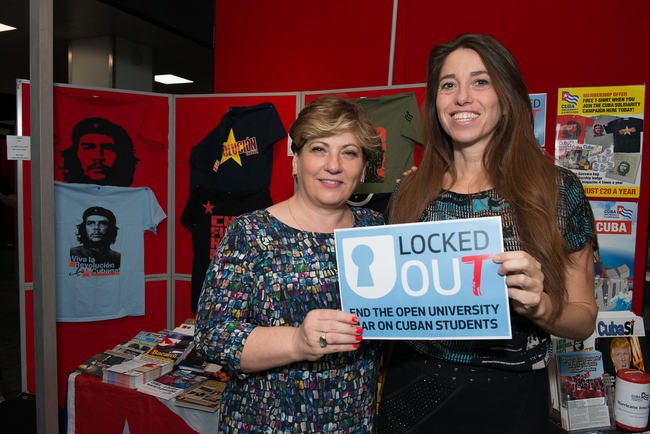 Labour Party Conference 2017
CSC organised a packed, standing-room only, fringe meeting at the Labour Party conference in Brighton, with over 150 people attending.
Karen Lee MP, the new chair of the APPG on Cuba, chaired the fringe, with guest speakers including Teresita Vicente, Cuba's Ambassador to the UK, Rob Miller, CSC Director and Chris Williamson MP.
Karen Lee MP updated delegates on the devastating impact of Hurricane Irma – the worst hurricane in living memory – and paid tribute to CSC's hurricane appeal which had raised over £40,000 in its first fortnight. A bucket collection for the Hurricane Appeal following the meeting raised a further £264.
Teresita Vicente told delegates how "the US blockade continues and is stronger than ever", since Trump's tightening of the blockade in June.
"The blockade makes our recovery from the hurricane and an ever greater challenge – as we continue to face Hurricane Trump", she said.
The Cuban Ambassador said how Cuba will again present its resolution to the United Nation general assembly on 1 November.
"Last year's historic vote saw 191 countries support the ending of the blockade, with zero countries against. The US and Israel abstained. This year, with Trump, we expect the US and Israel to vote against our resolution," she said.
Rob Miller, CSC Director, outlined the extraterritorial impact of the US blockade, including an update on the Open University's ban of Cuban students:
"The Open University has banned Cuban students because of the fear of fines from the US Treasury Department's Office of Foreign Assets Control (OFAC).
"It is an unfair, unjust and illegal ban. Over 2,200 people have written to their MPs on the matter and we are continuing to call on the Open University to end this discriminatory ban."
CSC also ran a successful stall at the conference, recruiting more new members than ever before, with over 50 delegates and visitors joining the campaign. Emily Thornberry MP, Shadow Foreign Minister, was amongst the MPs who visited the stall, where she offered her support in the campaign to end the Open University's ban of Cuban students.
---