Cuba Solidarity Campaign Slams Trump Decision To Expel Diplomats
Morning Star | Wednesday, 4 October 2017 | Click here for original article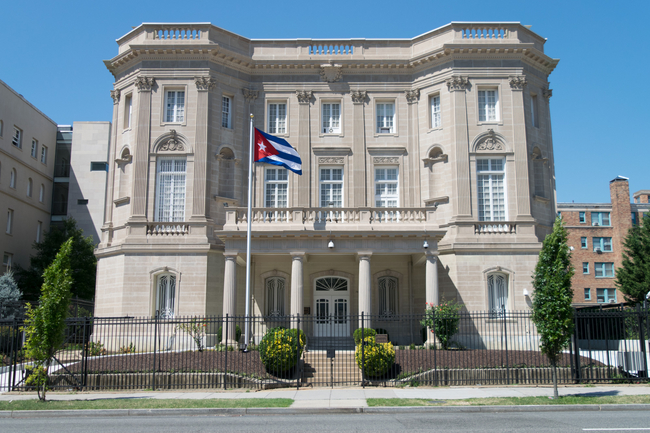 CUBA solidarity campaigners accused US President Donald Trump yesterday of pandering to hard-line Republicans by expelling Cuban diplomats from its Washington embassy.
Britain's Cuba Solidarity Campaign (CSC) spoke out after US officials leaked government plans ordering Havana to cut staff at the embassy by 60 per cent.
The decision, expected to be formally announced later yesterday, came after the US State Department cut its own staff based in Cuba by a similar proportion — from around 50 to about 20.
Republican Florida Senator Marco Rubio, a die-hard opponent of Cuban socialism, applauded the administration's step, tweeting that the move to expel "Castro regime employees" from the Washington embassy "was the right decision."
CSC director Rob Miller told the Morning Star: "Unfortunately, it's another victory for Marco Rubio and the hard-line anti-Cuban groups in Miami who are the bedrock of his support."
"At a time when Trump is seeing his domestic support wane, Rubio has become crucial as one of the few Republican cheerleaders for Trump's policies," he said.
Trump's drastic move follows bizzare claims that at least 21 US embassy staff in Havana — mainly spies operating under diplomatic cover — were made ill by "sonic attacks" starting in November last year, days after US President Donald Trump's election.
Mr Miller stressed that Cuba had denied involvement in the alleged attacks — and the US had not yet explicitly blamed Havana for the mysterious high-pitched noises.
He added: "It appears that the entire incident is being blown up by Rubio and his accomplices who have repeatedly called for an ending of diplomatic relations with Cuba, a halt to US travel to the island and a return to overtly aggressive policies."
Full diplomatic ties between the two countries were only restored in 2015 after more than 50 years when then-US president Barack Obama released the Cuban Five — imprisoned in the 1990s for exposing anti-Cuban terrorist groups training in Florida.
But the US economic blockade of Cuba has not yet been lifted.
Mr Miller called the latest developments "a real setback in the recent efforts by Cuba and the previous Obama administration to foster a better, more respectful relationship between the two countries."
"The majority of Cuban Americans support the improvement of relations with Havana," he said.
This article, by James Tweedie, originally appeared in the Morning Star
Read more: Cuba responds to US expulsion of diplomats: MINREX Statement
Read more: TeleSUR: 'Cuba Denounces US Move to Expel Embassy Officials'
Watch: CSC Responds to Trump's Cuban Diplomat Explusions on TRT World
---