'Be Like Che': Cuba Observes 50th Anniversary of Revolutionary's Death
Telesur | Monday, 9 October 2017 | Click here for original article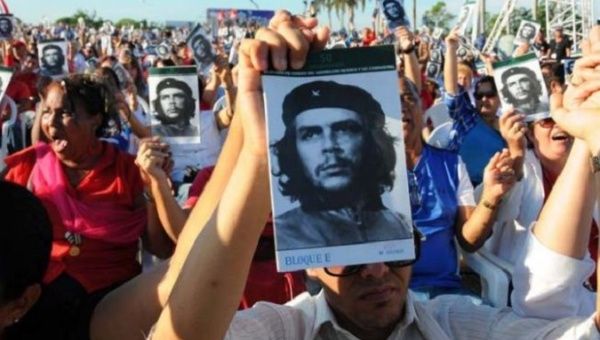 Ceremonies commemorating Che's death have been taking place all over the world.
Hundreds of thousands of Cuban and international guests poured into in Santa Clara, Cuba to pay homage to the revolutionary leader Ernesto "Che" Guevara, one of the leaders of the Cuban Revolution.
Along with President Raul Castro Ruz, over 600,000 people saw the sun come up before the official ceremonies began at Che's monument and mausoleum in the town which proudly hosts his memorial.
Outside his burial place, treasured relics, photos and letters to the Argentine hero covered the ground in a display the special place Che's holds in the hearts of the Cuban people.
The president, along with First Vice President Miguel Diaz-Canel paid their respects to the revolutionary in his place of rest.
A recording of the late revolutionary leader Fidel Castro's tribute to Che from Oct. 18, 1967, was played.
"If we want a model of man, a model of a man who does not belong to this time, a model of man who belongs to the future. I say in my heart that this model without a single fault in his conduct, without a single fault in his attitude, Che is the model. If we want to say how we wish our children to be, we must say it with all the vehemence of revolutionaries: We want them to be like Che!"
Some of Che's family members and his fellow combatants who died by his side in Bolivia joined supporters from social, political, and youth organizations.
Che's bronze monument, which stands almost 20 meters high, overshadowing his mausoleum, looked over the crowd as the honor guard moved to place a large floral wreath, in the shape of a red star as the national anthem played.
Diaz-Canel called the audience's attention to the accomplishments made around the city and in Cuba since Che's death.
"The accomplishments of this town demonstrate how much has been done to continue his legacy, to match his example, to try to be like him," said the vice president, emphasizing that Che's memory must be more than just a slogan, but a way of life.
He also recalled Che's words when he stated that imperialism cannot be trusted in the slightest, going on to note that changes in the country are undertaken in consultation with the people, adding that Cuba will not allow itself to be intimidated by new schemes designed to vilify the country, nor will it make concessions regarding how it chooses to construct socialism.
The ceremony also featured 50 elementary school children who were presented with blue handkerchiefs, identifying them as members of the Jose Marti Pioneers organization.
Ceremonies commemorating the revolutionary's death began this week in Bolivia with speeches, poems, and music, highlighting his internationalist accomplishments with a host of activities.
In 1966, Che launched a guerrilla movement in the South American country aimed at overthrowing the right-wing military regime of Rene Barrientos.
After months of fighting against the U.S.-trained and supported Bolivian Army, Che was captured on Oct. 8 and executed at the age of 39 on Oct. 9, after refusing to divulge information while being interrogated.
A day later, Che's body was displayed to international media with Bolivian Army troops. It is widely believed that Barrientos' regime was instructed by the CIA to hunt down and kill the leader of the Cuban Revolution.
He was then secretly buried in the small town of Vallegrande before being transferred to his present resting place in Santa Clara, Cuba.
---