The U.S. blockade punishes Cuban public health system harshly
Granma | Wednesday, 18 October 2017 | Click here for original article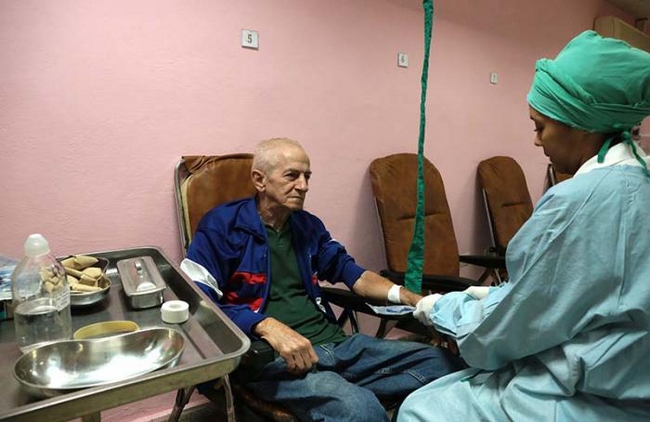 Cuba's public health sector is one of the most affected by the economic, commercial, and financial blockade first imposed by the United States February 7, 1962, and subsequently reinforced, most recently by President Donald Trump, on June 16.
The accumulated monetary damages in this area of society caused by the hostile policy have reached an estimated $2,711,600,000 dollars; and considering only the period from April 1, 2016 to March 31, 2017, the figure is more than $87 million dollars.
This information was presented during a public hearing held at the National Institute of Oncology and Radiology (INOR) in Havana, by Dr. Jorge González Pérez, a deputy to the National Assembly of People's Power and head of its standing committee on Health and Sports.
He emphasised that these figures cannot reflect the real damage to Cuba's population, saying, "What is most important is the emotional harm to quality of life that cannot be quantified economically."
He also stressed that the principal impact of the unjust blockade on the Cuban people is felt in difficulties acquiring medications; laboratory reactives; replacement parts for diagnostic and treatment equipment; medical instruments; and other necessary supplies which would allow the healthcare system to function better.
"We are obliged to purchase products for the sector in distant markets, such as China, that leads to a difficult economic situation in terms of shipping and delivery, producing difficulties with the availability of the medication, given the time it takes to reach the Caribbean. This implies the purchase of more than is needed, to keep a reserve in warehouses, so there are no shortages of the drugs needed by our ill patients. It would be very different if we could make purchases from the United States," he said.
He praised the efforts of Cuban doctors confronting these limitations, as key to the success of the country's public health system, providing quality care recognized internationally, and contributing to an increase in the country's life expectancy to more than 79 years.
Agreeing was Dr. Tania Crombet Ramos, director of clinical trials at the Molecular Immunology Center (CIM), who explained the impact of the blockade on scientific institutions, emphasizing that novel medications developed in Cuba cannot be registered in the United States, and that U.S. patients cannot be treated with pharmaceuticals produced in Cuba.
She reported that joint clinical trials are underway, under strict guidelines established by the U.S. State Department and Treasury, although access to diagnostic and therapeutic products is still prohibited.
Difficulties exist in receiving financial remuneration for the publication of research articles in scientific journals, and in conducting transactions by either U.S. or Cuban entities.
"In 2014, the specialised Roswell Park Cancer Institute, in New York, recognized the scientific validity of scientific data generated by the CIM. They wanted to use the research results with patients there. They began the complicated (application) process, but were only granted a license for research, not for commercial purposes. That is, it is only possible to conduct a clinical trial on U.S. soil," she said.
This means, the doctor continued, that Cuban products can be sent to the United States, but partners cannot send any equipment or technology to Cuba to facilitate joint research. The license granted in this case stipulates that results must be discussed under the supervision of U.S. lawyers, and since no related financial transactions are allowed, the CIM must bear all costs for the clinical trials.
Dr. Crombet listed more than 30 scientific articles accepted for publication in important journals around the world, for which their Cuban authors have received no financial compensation. Banks within and beyond U.S. borders refuse to handle the transactions, fearing fines and persecution.
"I can mention by name banks in Switzerland, Egypt, India, and others which have refused to make a bank transfer to Cuba. They are afraid of sanctions from the U.S. government," she said.
Similar statements were made by Lorenzo Anasagasti Ángulo, deputy director of research at the Oncology Institute, who emphasised that the objective of the blockade is to hurt Cuba, but that the most sensitive harm is done to cancer patients. Such patients require complex care and many resources, he said, noting that he blockade hampers efforts by medical staff to update their knowledge of scientific advances, to be more effective and efficient in their work.
"Toward the end of October, we hope to hold the First Cuba-U.S. exchange on radiotherapy, in Cuba, organised by the two countries' respective professional organizations. Of the 42 people from the U.S. who had confirmed their participation, 37 have cancelled. All have said that the Department of State has notified their workplaces to dissuade them from travelling to an unsafe location, where it is impossible to guarantee the security of U.S. citizens. Something that is totally false. Washington is hiding behind the alleged sonic attacks on U.S. diplomats in Havana, which have yet to be proven."
He also reported that, last year, he was planning to attend an event sponsored by the National Cancer Institute in the United States, to learn about cancer prevention experiences using modern methods based on molecular biology and genetics, which allow for more accurate screening and diagnoses of cancer patients. Although his application was initially accepted, he was not allowed to attend, with the event's organisers saying Cubans residing on the island were not permitted to participate in such scientific gatherings.
Dr. Jesús de los Santos Renó, deputy director of teaching at the Institute and a specialist in pediatric oncology, referred to the blockade's impact on ocular brachytherapy, used to treat children suffering from retinoblastoma, noting that purchases of needed reactives from U.S. suppliers is prohibited.
"Today this condition is treated with external radiotherapy, and the long term consequences mean that this group of surviving children are those most prone to a second cancer," he explained.
"Moreover, facial deformations are produced because face tissue atrophies and new cells are not produced, causing these patients to suffer serious psychological damage.
"The blockade is a history that affects us and we must denounce it in all possible forums," he concluded.
During the hearing, Mayelín Jiménez said that her seven-year-old son needs specific medication that is not available in Cuba, but that the state has made every effort to provide everything her son requires, free of charge, adding, "I attest to the meticulous attention that staff members at the INOR provide the children, their companions, and families. A balanced diet and all supplies are assured, and it bothers me that the blockade policy exists to hurt our people and, mainly, those who are sick."
Ariadna Palmero, in her second year of medical school at the Manuel Fajardo, commented on her desire to interact with other students around the world, especially in the United States, saying, "The blockade limits our opportunities to access novel, updated literature, despite the extensive bibliography we are provided. Most is in the English language and we don't have great internet connections, making it difficult to download heavy texts. Plus, there are pages blocked for Cuban internet users."
Isabel Moya, PhD in Communication Sciences and director of the Mujer publishing house, reported that she has breast cancer and energetically condemned the criminal U.S. blockade of Cuba, which created obstacles to a very specific molecular analysis she needed. The procedure was conducted here thanks to the solidarity of friends outside of the country, who she could not name, given the danger that they could face sanctions.
"Thanks to the talent and creativity of my doctors, I am still alive, and eager to contribute more to society," she added.
---