Press Release: Extraterritorial nature of the blockade damages Cuba's international and trade relations with the world
News from Cuba | Saturday, 28 October 2017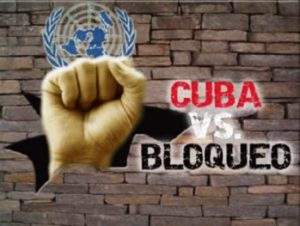 Cuba's permanent mission to the UN has issued a press release in advance of the annual vote against the US blockade. The note illustrates how the US policy is a blockade and not an embargo because if forces foreign countries to comply with US laws and precents them from having normal relations with Cuba.
Press Release: Extraterritorial nature of the blockade damages Cuba's international and trade relations with the world
Despite the reestablishment of relations between Cuba and the United States, the economic, commercial and financial blockade imposed by the United States of America against Cuba continues to be the cornerstone of a criminal and failed policy that damages the Cuban people, while it daily shows its extraterritorial nature.
From April 2016 to date, the economic, commercial and financial blockade imposed by the United States against Cuba has continued to be implemented with broad extraterritorial implications and serious damages for the island: On July 11, 2016, the US bank City Bank cancelled the payment transfers issued by Havanatur to the Colombian airline Avianca, and the Spanish bank Santander cancelled the transfers addressed to the Cuban company Puro Tabaco, the exclusive distributor of Corporación Habanos S.A. for Argentina, Uruguay and Chile. Both of them used as a pretext the sanctions imposed by the Office of Foreign Assets Control (OFAC) of the US Department of the Treasury.
The US Company PayPal cancelled payments made by more than 100 customers who tried to buy tickets for the premiere of the documentary Havana Moon-The Rolling Stones Live in Cuba in European movie theaters. The reason claimed by the company was that the description of the transaction included the words "Havana" or "Cuba", which was an infringement of OFAC regulations.
On September 7, 2016, the Dutch company of electronic payments PayU discontinued, once and for all, the operations with all those customers that had links with Cuba, and claimed that the reason for that decision was the regulations imposed by OFAC. Later on, this company cancelled the payment gateway services of the agency Havanatur Argentina due to OFAC regulations and the continued pressures it had to withstand because of its relations with Cuba.
On June 2, 2017, it was known that the e-learning platform Future Learn, operated by the UK public institution Open University, blocked the participation of several members of the Cuban Society of Anesthesiology and Resuscitation because Cuba was in the list of countries under US sanctions.
On February 10, 2017, it was known that the bank BNP-Paribas refused to accept transfers from the International Air Transport Association (IATA) addressed to the company Cubana de Aviación-París, because of the regulations imposed by OFAC.
---