Cuba is an example that can change the world for the better: National Education Union joint general secretary
Campaign News | Tuesday, 5 December 2017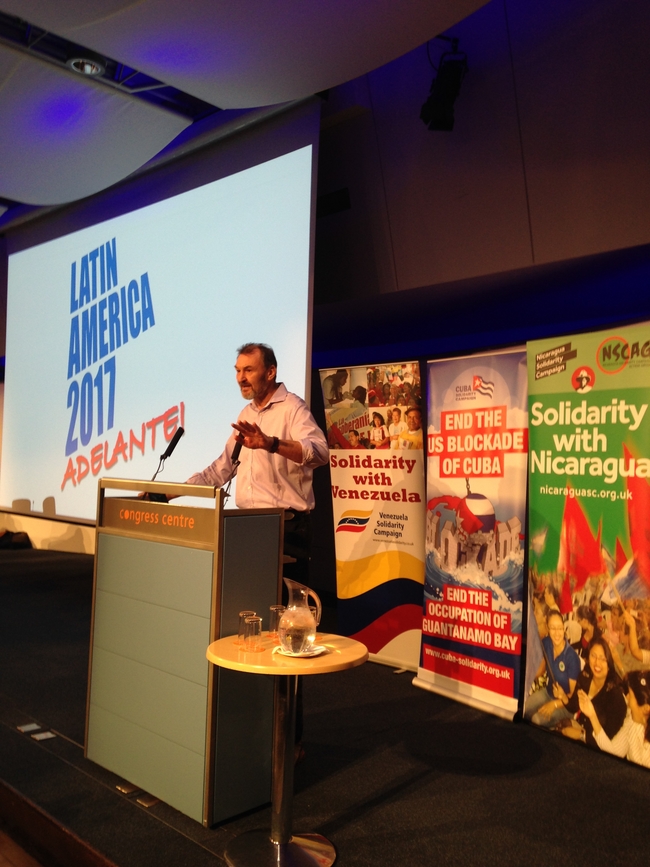 Latin America Conference 2017
Kevin Courtney, Joint General Secretary of the National Education Union (NEU), gave a rousing speech on Cuba's achievements in education at a packed plenary at Latin America Conference 2017 at the TUC's Congress House in central London.
"If you look at Cuba, you can see that if there is the political will to provide free and universal education - you can," he said.
"Cuba spends 13% of its GDP on education, almost three times the rates here. It's a poor country, but still spends over half of its total GDP on education, health and social care."
The joint general secretary reported how the NEU (NUT Section) recent October half term delegation to Cuba "saw first hand the practical differences that government can make to education" - including smaller class sizes.
"This stands in contrast to the way our government works here and internationally, with DfID foreign aid being used to fund the privatisation of education across the global south" Courtney said.
He spoke of the practical solidarity that the NEU (NUT Section) has been doing, including fundraising for Braille Machines to be sent to visually impaired schools in Cuba and providing English language training for Cuban teachers.
"It's outrageous that due to US blockade legislation a Cuban student was banned from enrolling into the Open University. Our work, alongside other union and the Cuba Solidarity Campaign forced them back on this, and they reversed the ban," he said.
"Why does the US continue its blockade of Cuba? Because Cuba is an example - an example that can change the world for the better", Kevin Courtney added.
Christine Blower, NEU (NUT Section) International Secretary, Louise Regan, NEU (NUT Section) President, Past NUT President Philippa Harvey, and Joe Whittington and Liz Stevenson - teachers who took part in a recent delegation to Nicaragua - also spoke during education themed seminars during the conference.
A full report from Latin America Conference 2017 is on the CSC website here
---