Raúl pays tribute to the historic leader of the Cuban Revolution
Sierra Maestra | Monday, 4 December 2017 | Click here for original article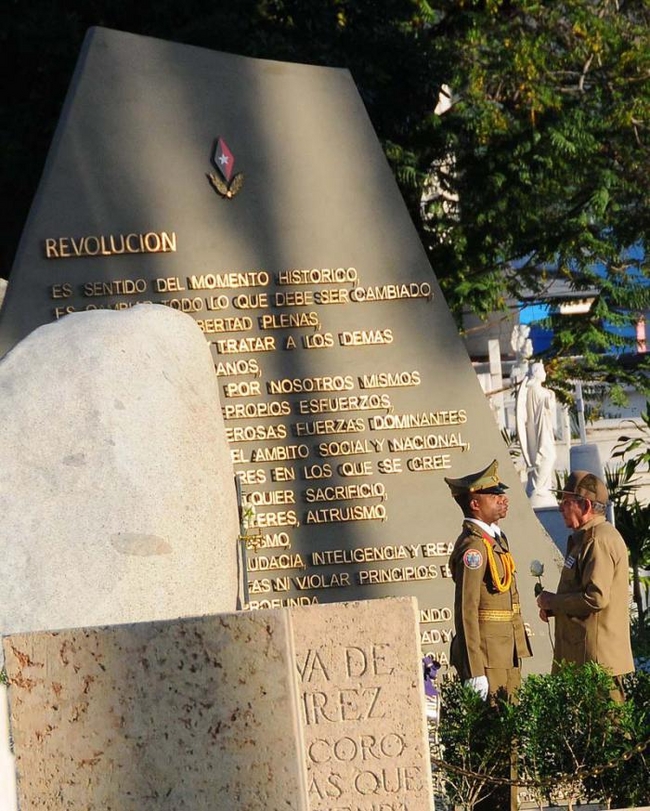 Army General Raúl Castro Ruz, First Secretary of the Communist Party of Cuba (PCC) Central Committee and President of the Councils of State and Ministers, alongside other leaders, paid tribute to the historic leader of the Cuban Revolution, Fidel Castro, this Monday, December 4, in Santiago de Cuba's Santa Ifigenia cemetery.
Following the Cuban National Anthem and the traditional guard of honor by military school cadets, tributes were paid to Cuban National Hero, José Martí; the Father of the Homeland, Carlos Manuel de Céspedes; and the Mother of all Cubans, Mariana Grajales.
On behalf of the people of Cuba, a floral wreath was placed before the monolith that holds the ashes of the undefeated and eternal Comandante Fidel Castro.
Beforehand, Raúl Castro led a march through the city of Santiago to commemorate the historic leader of the Cuban Revolution a year after his ashes were deposited in the patrimonial cemetery of Santa Ifigenia.
The massive march departed from the Plaza de la Revolución Antonio Maceo, the last site to host the remains of the Comandante en Jefe, before continuing along Patria Avenue to the cemetery.
Behind President Raúl and other accompanying leaders of the Revolution, marched a bloc composed of some five thousand young people and workers from different sectors of the territory.
They were followed by students and professors from the universities of Medical Sciences and the Oriente. These educational institutions were the scene of struggles of revolutionary youth before 1959, and hosted the Comandante en Jefe on several occasions, when he exchanged with teachers and students.
Workers organized according to their unions, retirees, women and other members of the public made up the rest of the march to honour the revolutionary leader. (Taken from the newspaperSierra Maestra)
---