Cuba's Infant Mortality Rate at Its Lowest in Nation's History
Telesur | Friday, 29 December 2017 | Click here for original article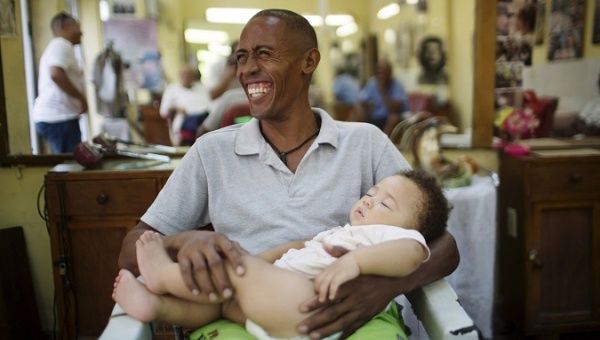 Update: On 2 January Granma reported that the infant mortality rate by the end of 2017 reached four per 1,000 live births.
Maintaining infant mortality rate below five per 1,000 live for the 10th consecutive year is reason enough for Cuba to celebrate.
But even more extraordinary is that the country has achieved the lowest rate in its history in 2017, four per 1,000 live births
Preliminary data, made available to Granma by the Medical Records and Health Statistics Directorate, indicates that 114,980 births took place, 1,892 less than in 2016, and 465 babies under a year of age died, 32 less than in 2016, the lowest number on record.
To appreciate just what this figure means, it's worth recalling that in 1970, 9,173 infants died, for a rate of 38.7 per 1,000 live births.
For nine consecutive years Cuba has reported a rate of less than 5 per 1,000 live births, lower than in most countries in the world.
Cuba's infant mortality rate was 4.1 per 1,000 live births in 2017, the lowest in the history of the Caribbean socialist country, the Cuban ministry of public health announced Thursday.
"This is a milestone that reflects the integration of the entire health care system in the country, which is about lives saved, quality of life, happiness and satisfaction for our people," Minister of Public Health Roberto Morales said in an event honoring workers in the sector, the state-run Cuban News Agency reported.
Morales added that it is possible that the rate will even be lower by the end of December.
Meanwhile as for congenital malformations, the ministry reported 0.9 deaths per 1,000 live births as a result of the development and improvement of the genetic network, the minister explained.
The results also highlighted the program for cancer control, which in the last three years has halted the increase in disease-related mortality.
He said the elimination of diseases such as poliomyelitis, diphtheria, tetanus in newborns, whooping cough, measles, rubella and mumps is maintained and transmission between mothers and infants has been stopped.
In 2016, Cuba recorded an infant mortality indicator of 4.3, which meant that for nine consecutive years the island reported a rate of less than 5 per 1,000 live births.
Cuba allows expectant mothers to stay in maternity homes where potential health risks to mothers and babies can be identified early on in pregnancy. The homes also provide nutritional support and education.
Unlike in some developed countries including the United States, the infant mortality rate in Cuba remains at similar rate throughout the country regardless of the income and ethnic makeup of an area.
---