Cuban Embassy in Venezuela targeted by terrorist cell
Redacción Internacional / Granma | Monday, 22 January 2018 | Click here for original article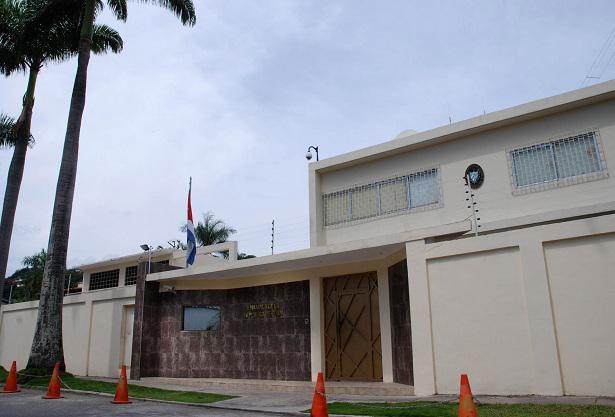 CARACAS.— "They were going to put a bomb in the Cuban Embassy," stated Diosdado Cabello, first vice president of the PSUV, referring to plans by a terrorist cell which was neutralized this week in the Bolivarian nation.
During its weekly television program "Con el Mazo Dando" broadcast by VTV, the United Socialist Party of Venezuela (PSUV) revealed that the group had planned to use a car bomb in the attack.
As such Cabello confirmed reports that had begun circulating several days ago on social networks and various news outlets after President Nicolas Maduro, in his January 15 annual report before the National Constituent Assembly, stated that the cell, led by Oscar Pérez, was planning an attack "against the Embassy of a dear and prestigious country which has its representation here (Venezuela)."
According to what Granma has learned, Venezuelan authorities have tightened security at the island's embassy, which continues to carry out its normal operations.
The First Vice President of the PSUV added that "terrorism must be condemned in all its forms, there is neither good nor bad terrorism."
Cabello also noted that six members of the terrorist cell - including its head Pérez - which attacked the headquarters of the Supreme Court and Ministry of Interior Relations, Justice and Peace in Caracas, were apprehended during the January 15 raid by security forces.

NOT THE FIRST TIME

This is not the first time the Cuban Embassy has been the target of a violent attack in Venezuela, with a despicable incident occurring there during the 2002 coup against then President Hugo Chávez.
Claiming that Chávez supporters were hiding out in the Cuban Embassy, several individuals from right wing sectors in Venezuela attempted to break into the facility.
A hired mob committed various violent acts, destroying cars and throwing stones and vehicle parts at the embassy, smashing doors and cutting power and water to the building; all of which were broadcast by private media companies supporting the coup.
Instead of helping to protect Cuba's diplomatic personnel, then Mayor of the municipality of Baruta and two-times presidential candidate Henrique Capriles Radonski, attempted to intimidate the island's Ambassador, Germán Sánchez Otero.
At one point during the attack, so called "negotiators" were allowed (with the authorisation of Comandante en Jefe Fidel Castro) in to the building via a ladder. However, Cuba refused to succumb to pressure after Capriles continued to demand that the Embassy and consulate be searched to determine whether then Vice President Diosdado Cabello was in the facility.
"They came for wool and left with their fleeces shorn. The Mayor and those accompanying him saw themselves forced to leave the Embassy, given our firm and irrefutable position," stated Sánchez Otero in his testimony "Agresión a la embajada de Cuba. Crónica de un plan sincronizado" (Aggression against the Cuban embassy: The tale of a synchronized plan).
Everything returned to normal after President Chavez was reinstated, while a group of citizens celebrated their leader's return by marching to the Cuban Embassy in an act of reconciliation.
Capriles however, was cleared of all charges linked to the attack on the Embassy (damage to property, private violence, and breaking and entering) due to a lack of evidence according to the judge.
Violent acts against any diplomatic headquarters stand in violation of international law, under which diplomatic facilities are regarded as the territory of the country they represent, and subject to immunity.
---