Trump's 'axis of evil'? Cuba, Venezuela, Iran and North Korea were singled out during his first State of the Union.
Post Gazette: The New York Times, Los Angeles Times and The Washington Post contributed. | Thursday, 1 February 2018 | Click here for original article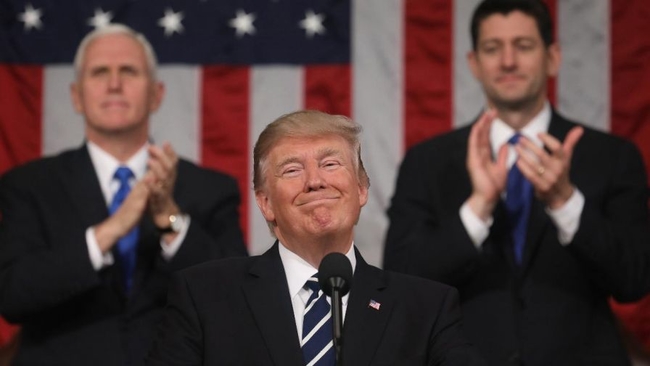 WASHINGTON — President Donald Trump targeted four "communist and socialist dictatorships" in his first State of the Union address, apparently creating his own version of former President George Bush's "axis of evil."
In his speech, Trump singled out Cuba, Venezuela, Iran and North Korea as rogue nations that the United States must and will continue to confront.
"My administration has also imposed tough sanctions on the communist and socialist dictatorships in Cuba and Venezuela," Trump said, pausing to allow lawmakers to stand and applause.
He continued: "But no regime has oppressed its own citizens more totally or brutally than the cruel dictatorship in North Korea."
Trump sketched out an ominous view of America's international role on Tuesday, emphasizing adversaries over allies, threats over opportunities, and a world to be pacified rather than elevated.
Be it Iran or the Islamic State, Trump promised that the United States would vanquish rivals and stand up for those who fight for freedom. He took credit for the military campaign against the Islamic State, which he said had liberated "almost 100 percent of the territory once held by the killers in Iraq and Syria."
Vowing to rebuild the nation's nuclear arsenal, Trump said, "perhaps someday in the future there will be a magical moment when the countries of the world will get together to eliminate their nuclear weapons."
"Unfortunately, we are not there yet, sadly," he said in his State of the Union address, his first.
Trump's attacks on the four nations reflect an increasing aggression toward communism that has been present throughout his first year of office. Trump noted other adversaries like China and Russia, but more as economic rivals and not specific threats to the United States or their own people.
The comments toward Cuba reflect Trump's hardened tone toward the island nation after President Barack Obama sought to build a greater rapport with Havana. The Trump administration has been investigating the mysterious sonic attacks against U.S. diplomats in Cuba. The Trump administration has already pulled much of the U.S Embassy staff from Havana and expelled 15 of their Cuban counterparts working in Washington.
The Trump administration, prodded by Florida Sen. Marco Rubio, has been ratcheting up the pressure on Caracas since Venezuelan President Nicolas Maduro engineered a vote for a new constituent assembly that stripped democratically elected lawmakers of their power.
The United States has slapped sanctions against more than 20 current and former Venezuelan government officials in recent months, including Maduro. U.S. economic sanctions have largely blocked the South American country from getting its hands on needed capital. Rubio has asked the administration call a meeting of the United Nations Security Council to bring more scrutiny on the Maduro regime.
In Tuesday's speech, Trump promised to stand with the people of Iran against its "corrupt" government, but he paid particular attention to North Korea whose "reckless pursuit of nuclear missiles," Trump said, represented a real threat to the U.S. homeland.
"We need only look at the depraved character of the North Korean regime to understand the nature of the nuclear threat it could pose to America and our allies," Trump said.
He cited the tragic case of Otto Warmbier, an American college student who was imprisoned in Pyongyang but died days after he was returned home to Ohio in a coma. His parents were in the House chamber for the speech.
Trump also saluted a North Korean defector whose legs had to be amputated in his torturous escape to the south.
But even as Trump touted his administration's resolve and its policy of "maximum pressure" on the regime, he did not propose new policies to confront Kim Jong Un.
The New York Times, Los Angeles Times and The Washington Post contributed.
---