Wildfire at Guantánamo Naval Base highlights continued violation of Cuban sovereignty
Granma | Thursday, 1 March 2018 | Click here for original article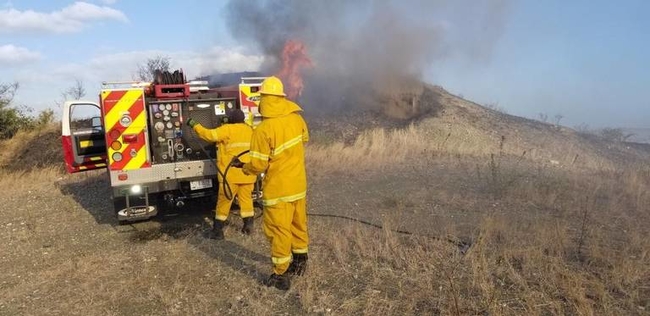 Cuban forces collaborated to contain the fire along the perimeter of the United States Naval Base in the illegally occupied territory of Guantánamo
A wildfire along the perimeter of the U.S. Guantánamo Naval Base on illegally occupied Cuban territory last week forced the evacuation of some of its personnel.
According to the statements by U.S. officials, Cuban forces collaborated to contain the flames and the situation was under control by the evening of Thursday, February 22.
Cuban forces "provided personnel and some trucks, so that was very, very helpful," Julie Ann Ripley, spokesperson for the Base, told U.S. media. It was also reported that a Revolutionary Armed Forces (FAR) helicopter dumped water from the air over the illegal Base to help control the fire.
In recent years, a level of communication between Cuban and U.S. authorities has been maintained for emergency situations at the Naval Base.
Beyond the solid principles and ethics that govern the conduct of the FAR in any scenario, incidents such as that which occurred demonstrate the logistical complications and practices of maintaining a base against the will of the Cuban people.
The illegally occupied territory of Guantánamo constitutes an open wound to Cuban sovereignty, a situation the country has endured for 115 years.
On February 23, activates were held to mark International Day for Peace and against Foreign Military Bases, during which young Cubans demanded the return of this illegally occupied territory and voices from around the world joined the demand across social media.
Students of Guantánamo's Saúl Delgado pre-university school recalled that Washington continues to operate an internationally condemned torture center at the Base.
President Donald Trump recently announced that he plans to keep the detention centre open, in contrast to the promise of his predecessor, Barack Obama, to at least close the prison, although he never spoke in favour of returning the territory to Cuba.
The president of the Cuban Movement for Peace and Sovereignty of the Peoples, Silvio Platero, advocated duringre currently more than 800 such facilities in 144 countries.
---