Protest in Miami against staff cuts at U.S. Embassy in Havana
Granma | Thursday, 15 March 2018 | Click here for original article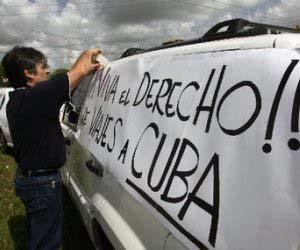 A caravan featuring 25 automobiles overtook the streets of Miami, Florida, to protest against the U.S. government's recent decision to make cuts to staff at its Embassy in Havana permanent.
The initiative was organised by Cuban émigrés in Miami and members of the Alianza Martiana, whose president Damián Díaz, described the demonstration as positive and timely.
"Our cars didn't come under attack by the right wing and anti-Cuban groups and we felt positive support from many people during the event," stated Díaz speaking to Prensa Latina.
We even heard shouts of "íViva Cuba!" and "íViva la Revolución!" as we travelled along the busy avenues of Southwest and places near the University of Miami, he added.
As they have done on previous occasions, participants in the two-hour long caravan also denounced the economic, commercial and financial blockade imposed by the United States on Cuba for more than 55 years.
"We have to make the most of every opportunity to demand an end to the blockade which does so much damage to the Cuban people wherever they reside," stated Díaz.
On March 2, the U.S. State Department announced a new staffing plan for its Embassy in Havana, meaning that its diplomatic headquarters will continue to operate with the minimum number of personnel necessary to carry out essential consular and diplomatic functions.
The decision comes after the U.S. withdrew over half of staff from its Embassy in Cuba last September 29, citing health incidents reported by diplomatic personnel.
During the event this March 10, Andrés Gómez, national coordinator of the Antonio Maceo Brigade and member of the Alianza Martiana noted that the decision is part of an insane plan by President Donald Trump and his Cuban-American allies of the extreme right wing.
They want to stop Cubans coming to the United States and cause an eventual break in relations between the two countries, he noted.
Gómez went on to highlight that the U.S. also ordered the unjustified expulsion of 17 members of staff from the Cuban Embassy in Washington, affecting vital consular services for Cubans wanting to visit family on the island, he noted.
---