International solidarity takes centre stage at NEU (NUT Section) Conference
Campaign News | Tuesday, 10 April 2018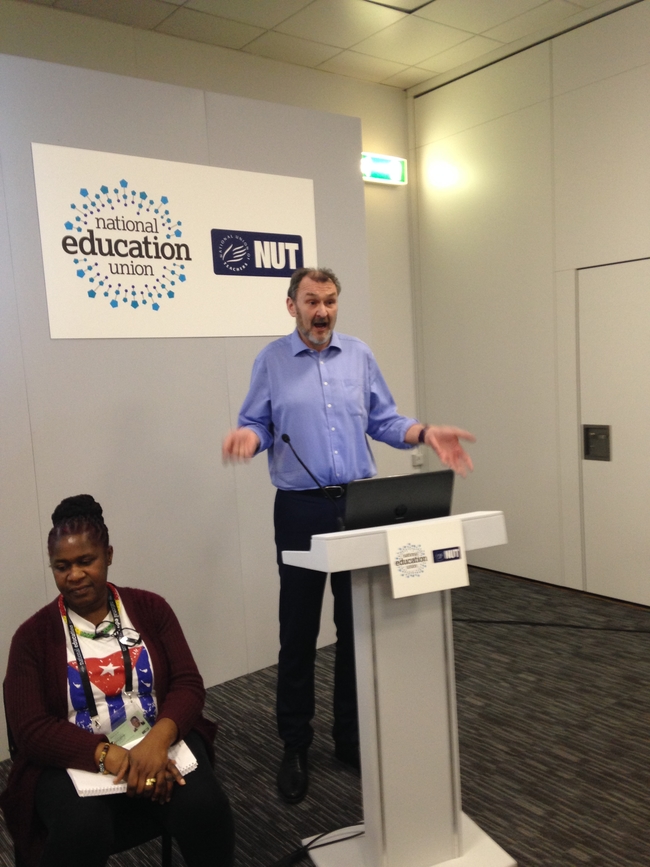 NEU (NUT Section) 2018 Conference Report
International solidarity with Cuba took the centre stage at the NEU (NUT Section) Conference in Brighton over the Easter weekend.
A new large panel display exhibition on education in Cuba greeted delegates arriving at Brighton Centre where CSC organised a packed fringe meeting featuring Cuban teaching union executive member Ana Glorria Calderon Zedeno, launched our new 'Play for Cuba' appeal, and hosted a popular salsa social evening.
Fringe Meeting
Under the title of 'Education Under Blockade' fringe meeting drew contributions from Kevin Courtney, NEU Joint General Secretary, Kiri Tunks, NEU (NUT Section) President, Ana Gloria Calderon Zedeno, SNTECD (Cuban teachers' union), Bernard Regan, CSC National Secretary and five excellent speeches from NEU/NUT members who took part in the October 2017 delegation to Cuba.
Ana Gloria Calderon, a member of the National Secretariat of the SNTECD in Cuba, gave a first-hand account of teaching in Cuba and the challenges the sector faces from the US blockade.
"The education sector in Cuba has suffered losses of around $2,832,830 dollars due to the blockade. The losses are mostly associated with the high cost of freight importation for school resources from far away and expensive markets, because it is impossible for us to access them from the United States.
"The blockade also has a huge impact on our access to computers, technology and scientific equipment for schools and universities.
"Yet despite the huge challenges, Cuba is recognised as a world leader in education", she said.
Kevin Courtney said: "What Cuba has achieved in education and in health shows what can be achieved with the political will. It stands as an example, in its context of being a poor, developing country in the Global South, which has prioritised education and health."
"We are really proud of our work with Cuba. We supported the victorious CSC campaign to overturn the OU's ban of Cuban students. And our union has assisted with English language training to Cubans who have gone on to teach Cuban internationalist medics who worked in West Africa during the Ebola outbreak", the Joint General Secretary said.
Kiri Tunks, who led the October 2016 delegation to Cuba, said how students' voices in Cuba are very important. "When you meet young Cubans - they are active and a political in a way that is so inspiring."
The NEU/NUT President also highlighted how "Cuba now has the second highest percentage of MPs in the world" following the general elections in March.
There were five dynamic contributions from NEU/NUT members who attended the October half term delegation to Cuba on women in Cuba, on black representation in Cuba, on inclusion, Cuba's educational achievements, in addition to references to Cuban culture and dancing!
NEU/NUT delegate Jenny Christopher said: "It was so empowering to see black people in leadership positions in Cuba - in education, in trade unions, black people are senior and have made such a significant impact... Cuba is not perfect but there is so much that we can learn from them."
Georgia Townshend spoke on women in Cuba, including her experience of seeing strong Cuban women in many leadership rules - "Whether dancing or educating, whether a child or an adult, Cuba is full of confident, capable women, viva Cuba!", she said.
Philipa Harvey, NUT past-President, who led the October 2017 delegation to Cuba chaired the fringe urged members to attend this year's delegation and see Cuba's achievements first-hand and Bernard Regan, CSC National Secretary, called on all NEU/NUT associations and divisions to affiliate to CSC to support the campaign to end the US blockade.
Salsa Lessons at Conference Social
After the fringe 600 delegates attended the Conference Cuba Social Night where Omar Puente and the Raices Cubanas played two dance-floor filling sets and led salsa lessons for the delegates.
Please get in touch with the CSC office on campaigns@cuba-solidarity.org.uk if you would like to order some Play for Cuba leaflets for your school, NEU (NUT Section) region, association or division.
---