CWU general secretary pledges increased support for Cuba from the union
Morning Star | Wednesday, 25 April 2018 | Click here for original article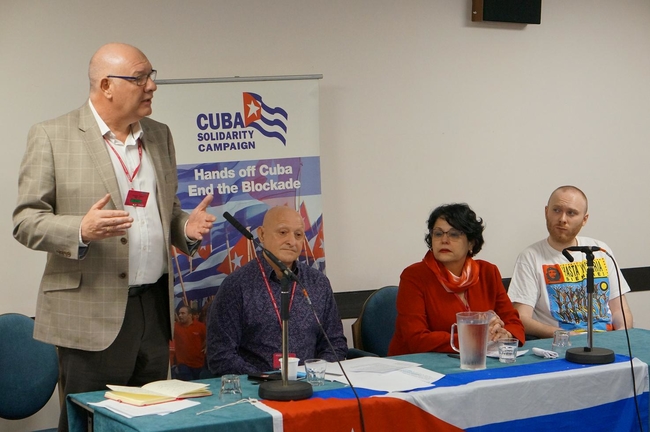 Morning Star: CWU general secretary Dave Ward pledged increased union support for Cuba at the union's annual conference today.
Mr Ward told a fringe meeting in Bournemouth organised by the Cuba Solidarity Campaign that, despite reorganisation within the CWU, "things like our international work aren't going to become less important. They need to become more important."
He spoke of the CWU's "responsibility in the wider movement" and his hope that the union would be able to "take inspiration" from the Cuban people's struggles: against dictatorship before the revolution and against the US blockade ever since.
Mr Ward pointed out that "the biggest power in the world" had taken a decision to say "we are going to stop you developing on everything."
He added: "Where we're having the debate about Brexit and trade, stuff like that, imagine the impact of that: the biggest power in the world turns round and says: 'We are not going to do any trade with you, whatsoever'."
Raising US President Donald Trump's damaging rhetoric, Mr Ward said: "This is a moment where we have to reassert our values, not just in our workplaces as trade unionists, not just in the wider trade movement, but in our international work."
Cuban ambassador to Britain Teresita Vicente told delegates that Labour leader Jeremy Corbyn had been in "personal contact" with her and had said that "if he gets [into power] he will do a lot to increase our bilateral relations."
She added that "political solidarity is very important" to the Cuban people, describing it as "a shield against US apartheid."
---