CSC Director speaks at Havana's International Solidarity with Cuba Conference
Campaign News | Thursday, 10 May 2018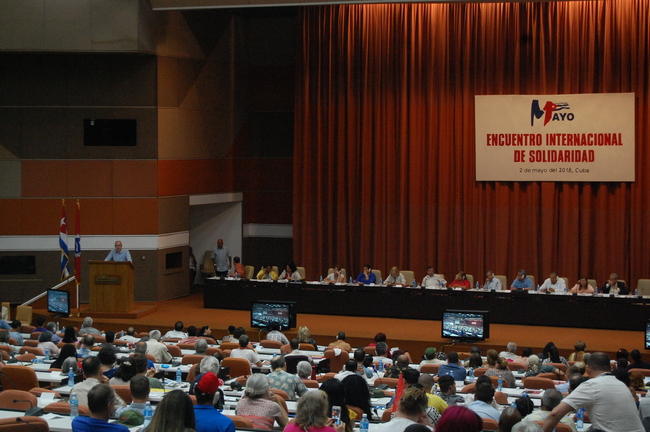 Rob Miller, Cuba Solidarity Campaign (CSC) Director, was invited as a keynote speaker at the annual International Solidarity with Cuba Conference at the Convention Centre in Havana on May 2nd.
The annual conference was attended by over 1,400 international guests and also featured contributions from Ulises Guilarte, CTC General Secretary and Fernando Gonzalez, ICAP (Cuban Institute of Friendship with the Peoples) President and Miami Five Hero.
The CSC Director was asked to speak about the impact of neoliberal policies across Europe. He also addressed the extraterritorial impact of the US blockade of Cuba in Britain. "A British national bank, the Co-operative, closed all of CSC's bank accounts. They explained they 'had' to do so because of the US Blockade."
"And last year a Cuba student was banned from even applying for a course at the Open University in Britain. This was a direct discrimination. Such discrimination is illegal in our country. Yet our Government and the Open University decided to ignore our own national and sovereign laws against such discrimination.
"In effect, they put US extraterritorial legislation over and above our own national laws. This affects out own national sovereignty as well as that of Cuba.
"CSC organised a huge campaign with our affiliated trade unions, thousands of members and hundreds of MPs. And I am pleased to say that after one year, together we forced the Open University to change its policy and we look forward to seeing the Cuban student starting his course in September this year," Rob Miller said, to huge applause in Havana's Convention Centre.
You can watch the speech on CSC's YouTube channel here
---