Cuba rejects attacks by Mike Pence in the OAS
Granma | Tuesday, 8 May 2018 | Click here for original article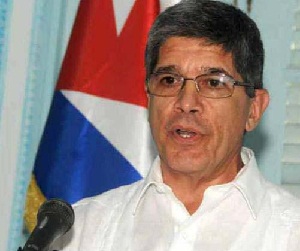 On Monday, May 7, the Cuban Foreign Ministry rejected the "aggressive and untrue" remarks made by U.S. Vice President Mike Pence, in Washington.
Director General for the United States at the Cuban Foreign Ministry, Carlos Fernández de Cossío, warned that such actions only serve to remind Latin Americans that the Monroe Doctrine and its hegemonic aspirations are as alive today as ever.
Pence spoke before the OAS Permanent Council in the U.S. capital where he attacked Cuba, Nicaragua, and Venezuela, calling on other nations of the region to exert pressure on this "dark cloud of tyranny."
Fernández de Cossío refuted Pence's claims that the United States has a "long-standing commitment to democracy and freedom."
Speaking on national television the Cuban official also criticised the U.S. Vice President's assertion that his country "supports the Cuban people," given recent measure tightening the blockade of the island; designed to stifle the country's economy and bring hunger and misery to the Cuban people, he stated.
Fernández de Cossío noted that Pence's remarks were made in the OAS, an organization known for supporting the most horrendous crimes on the continent, from coup d'états and brutal dictatorships to murder, torture and disappearances.
According to the Cuban diplomat, Pence's remarks represent another attempt by the United States to apply old formulas to encumber the development and independence of nations in the hemisphere.
The United States doesn't realise that Latin America has changed, and that its policies will fail. Cuba will continue to build an independent, sovereign, socialist, democratic and sustainable country, and will also continue to construct our solidary America which respects the diversity of its peoples, he stated.
---