Talks between Cuba and EU offer hope for closer relationship
Morning Star | Thursday, 17 May 2018 | Click here for original article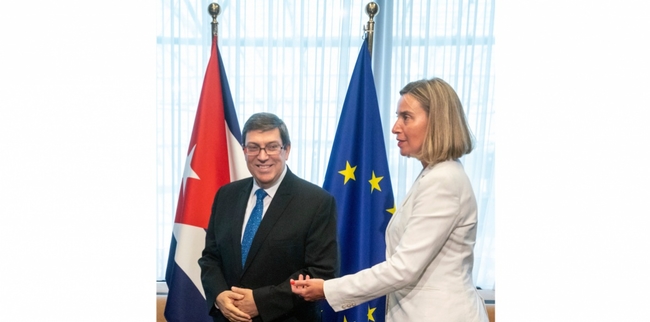 Talks in Brussels between Cuba and the European Union will help to develop a closer relationship, both sides agreed on Tuesday.
The first Cuba-European Union joint council between Cuban Foreign Minister Bruno Rodriguez and EU Foreign Affairs head Federica Mogherini discussed potential co-operation in the agricultural and tourism sectors.
They signed an agreement for the EU to give £16 million in project support to Cuba's 2030 goal to obtain a quarter of its energy from renewable sources and Brussels also agreed to contribute more than £17m towards an existing food security programme in Cuba.
"Today we celebrate an important step in relations between the EU and Cuba," Ms Mogherini said.
She denounced the United States blockade of Cuba, calling it "obsolete" and "illegal," and reproached US President Donald Trump for rolling back the diplomatic advances his predecessor Barack Obama had recently made with Cuba.
"We want to construct a closer relationship based on open and frank dialogue and mutual respect and effective co-operation," said Ms Mogherini.
The Cuban Foreign Ministry said that "the relationships between the EU and Cuba will be developed for the first time under a contractual framework that reaffirms the bases of respect, observance of international law and the principles included in the charter of the United Nations."
Last year, the EU imported over £400m worth of Cuban products and exported more than £1.7 billion to the island.
Havana and Brussels also began dialogues focused on sustainable development, nuclear non-proliferation, human rights and unilateral measures.
---