Cuba's Draft Constitution Opens Path to Gay Marriage
Telesur | Tuesday, 24 July 2018 | Click here for original article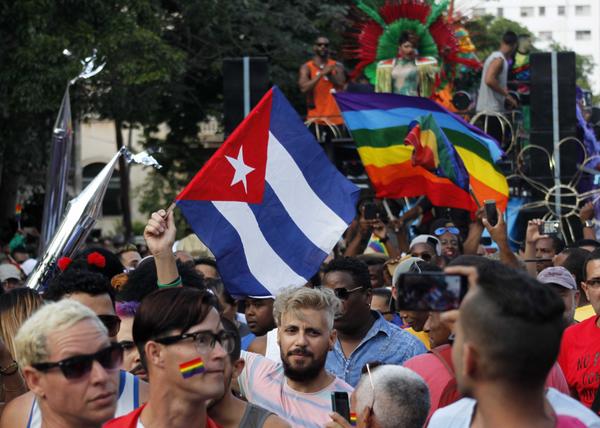 LGBT rights activists in Cuba supported the proposal with posters reading "I am in favour of Cuban design " showing different family configurations including same-sex unions.
The draft of Cuba's new constitution opens the path to same-sex marriage, a government official said Saturday which would make it a leader in lesbian, gay, bisexual and transgender rights.
Despite being illegal in the early years of the revolution, a policy which Cuban late president and revolutionary Fidel Castro had later apologised for, Cuba has made great strides over the past decade on LGBT rights, approving sex-change operations and banning workplace discrimination, partly thanks to the high-profile advocacy of Former President Raul Castro's daughter Mariela Castro.
Proposals have always been part of a future constitution that would bring reforms to Cuba's 1976 Soviet-era Magna Carta, the secretary of the council of state, Homero Acosta, told lawmakers Saturday. The draft, elaborated by a commission headed by Raul defines matrimony as between two individuals rather than between a man and a woman, he said.
The move reflects a trend in Latin America where same-sex couples have been allowed to marry in Argentina, Brazil, Colombia, Uruguay and some parts of Mexico in recent years, despite church opposition.
The battle has not yet been won however, Cuban LGBT rights activist Isbel Diaz Torres cautioned on social media.
While the national assembly is expected to approve the draft constitution this weekend, it will then be submitted to a popular consultation, and final draft will be put to a national referendum.
Grassroots campaigns for and against gay marriage have made it the most broadly debated proposed constitutional modification.
Five evangelical denominations shared a statement on social media last month declaring marriage "exclusively the union of a man and a woman, according to the Bible."
Churches also plastered neighbourhoods with anti gay marriage posters such as one reading "I am in favour of the original design - the family as God created it," showing a heterosexual couple with a boy and a girl.
LGBT rights activists fought back with their own posters such as one reading "I am in favour of Cuban design - a very original family," showing a panoply of different family configurations including same-sex unions.
---