Square in Vietnam to be named after Fidel Castro
Radio Havana Cuba | Wednesday, 22 August 2018 | Click here for original article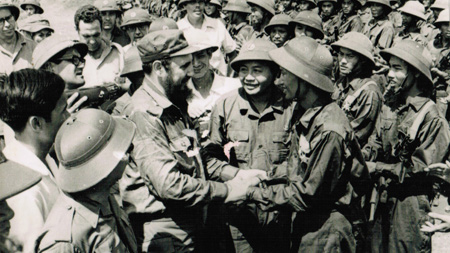 Hanoi, August 21 (RHC)-- A square that will be named after the historic leader of the Cuban Revolution, Fidel Castro, is being built in the central Vietnamese province of Quang Tri. Fidel visited the province in 1973, during his visit to the Asian nation.
A bronze bust of Fidel is already in place, mounted on a marble pedestal. Behind the platform, three mounds evoke the Sierra Maestra mountains, scenario of the island's liberation struggles that led to the triumph of the Revolution in January of 1959.
The scenario will be complemented with several royal palm trees, which will be planted, while a small artificial lake will serve as a backdrop, in clear remembrance of the Caribbean Sea.
According to the executors of the work, the capital of Quang Tri, Dong Ha, will have the honour of being the first city in the world to have a place named after Fidel Castro, who was the first and only president who visited Vietnam during the U.S. war of aggression.
---