Series of Activities Begin to Commemorate Fidel Castro's First Visit to Vietnam
ACN | Wednesday, 5 September 2018 | Click here for original article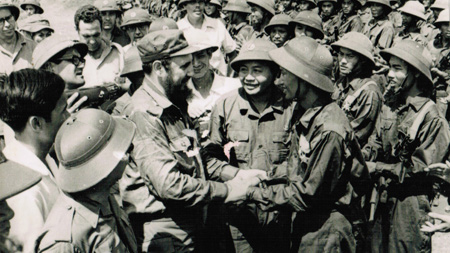 HAVANA, Cuba, Sept 3 (ACN) A series of activities began on Monday across the island on the occasion of the first official visit of the leader of the Revolution Fidel Castro to Vietnam in September of 1973.
A special edition will be launched of the magazine Panorama, the presentation of a book entitled Si Tengo un Hermano (Yes, I have a Brother) and an exhibition at the Jose Marti Memorial in Havana will be part of the activities.
Vietnam's Ambassador to Cuba, Nguyen Trung Thanh told ACN that there will be events and exchanges in institutions and schools in the provinces like Pinar del Rio, Holguin, Camaguey and Guantanamo consolidating the ties between both countries.
The main activity for the 45th anniversary of Fidel's first official visit to Vietnam will be held on September 12th at the theatre of the Ministry of Communications in Havana.
Fidel was the first Head of State to visit the liberated zone in South Vietnam amidst the war of Vietnamese people against US aggression.
During a speech at the reception offered by the Vietnamese Workers Party and Government on September 12th, 1973, Fidel Castro characterised the people from that Asian nation as an example and strength in the struggle of the Cuban people and highlighted its role in the international revolutionary movement.
Fidel said, "we can assure our Vietnamese brothers and sisters, that at the doorsteps of the United States, 90 miles from its coasts you will have a comrade, brother and sister in the struggle and conscious and revolutionary people that will always be on the side of Vietnam".
In that historic moment, Fidel assured the Vietnamese people that despite Cuba being a small and poor country; it would participate in the recovery of that Asian nation.
Cuban workers and machinery will go to Vietnam to participate in the construction of hospitals, roads and other activities, to contribute in the reconstruction of the Asian country, he said.
---