Former FARC Members Head to Cuba for Medical Scholarship
Telesur | Friday, 7 September 2018 | Click here for original article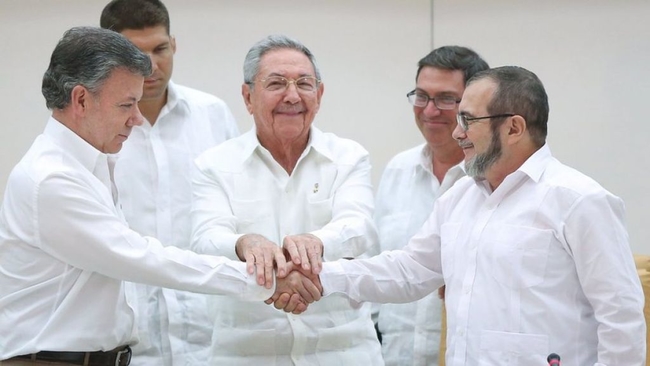 "I was always known for being good at healing people," said former FARC medic and scholarship beneficiary, Jhony Guependo.
Former guerrillas from the now defunct Revolutionary Armed Forces of Colombia (FARC) and victims of Colombia's civil war boarded a plane to Cuba Tuesday to start medical training as part of the ongoing peace process.
The Cuban scholarship program, which will allow the former rebels to complete their studies free of charge, is the Caribbean nation's contribution to the historic peace deal signed between FARC and the Colombian government in 2016.
Months after the agreement was made, Cuba announced that it was rewarding a total of 1,000 scholarships over the course of five years to young Colombians, according to Colombia Reports.
This is the second year that the Caribbean island is taking on 200 new students to take part in the program. It's the first year that former combatants and victims of the civil war will participate.
"I was always known for being good at healing people. Now I want to become a doctor so that I can help those who are vulnerable," said former FARC medic Jhony Guependo.
The Colombian government required that half of the scholarships be given to FARC members and the other half to victims of the conflict, as well as low-income families, when the program was officially announced. Until then, FARC doctors utilized indigenous botanical knowledge to heal the wounded.
For low-income students in rural areas, the Cuban scholarship is an opportunity to study and pursue a vocation they would otherwise not be able to achieve in Colombia.
"I want to be the first person in my family with a college degree. It will be sad to leave everyone behind, but in life, you have to make sacrifices to become someone and chart a new path for yourself," said 19-year old Johan Arenas.
---