Cuba's president says can't talk with Trump unless it's as equals
Reuters and TeleSUR | Monday, 17 September 2018 | Click here for original article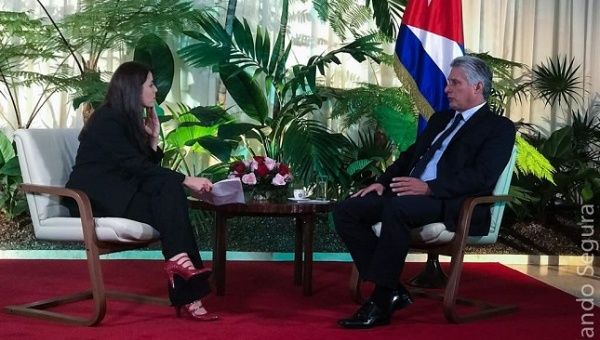 (Reuters) - Cuban President Miguel Diaz-Canel said in his first interview since taking office in April his government could not talk with U.S. President Donald Trump as long as Trump's administration kept its "abnormal" attitude toward the Communist-run island.
"We want to dialogue but it must be as equals," Diaz-Canel said in the wide-ranging interview with Venezuela-based television station Telesur broadcast on Sunday evening, echoing his predecessor and mentor, Raul Castro.
"We do not accept impositions and we are not willing to make concessions," he said.
Cuban-U.S. relations have deteriorated sharply since Trump took office and began partially rolling back the historic detente agreed by his predecessor Barack Obama after decades of hostility.
They have also worsened over what the United States says were a spate of health attacks on its diplomats based in Havana. Cuba denies any involvement.
"Cuba does not attack, Cuba defends, Cuba shares," said Diaz-Canel, who referred many times throughout the interview to Fidel Castro, the late leader of the 1959 revolution, and his younger brother, Raul Castro.
Raul Castro, 87, remains head of the Communist Party until 2021 and is "like a father" to Diaz-Canel, according to the 58-year-old president who said they talk nearly every day.
Diaz-Canel praised Cuba's long-standing alliance with Venezuela but also said he welcomed the presidential victory of leftist Andres Manuel Lopez Obrador in Mexico that was "encouraging" for Latin America.
On the topic of a draft new constitution being debated at community meetings throughout Cuba, Diaz-Canel said the removal of the word "communism" did not mean Cuba was renouncing that aspiration.
The document, which should replace a Cold War-era constitution, still refers to socialism, which implies communism, he said.
Diaz-Canel said he supported the proposed change to the constitution to allow for same-sex marriage.
"I defend there being no kind of discrimination," he said, although it was up to the Cuban people to decide whether to include the change.
The TeleSUR article on the interview is included below:
'The Blockade is Inhumane'
Commenting his first four months in office, Cuban President Miguel Mario Diaz-Canel Bermudez told in an exclusive interview with teleSUR that the U.S. blockade definitely still consisted in the main obstacle for the island's social and economic development.
"It has become even more difficult, there is also a constant financial persecution because there are difficulties for the flow of money and investment, something that has been planned from the U.S. government — a blockade that is already 60 years old, he told teleSUR's president Patricia Villegas. "It's a brutal practice, I would say that it is an inhumane practice against a people condemned to die of hunger or to die of necessity."
Responding to the recurrent criticism that the Cuban government was "obsessed" with the blockade, he said that the obsession was really Washington's. "We want to live in the normal conditions of a country, we are not a threat to anyone, all we want is social justice and to build a better world."
As for the policies implemented so far, Diaz-Canel highlighted they were inspired by Raul Castro's speech, with "for the people by the people" as a motto, in other words, "a government for the revolution."
"We set ourselves pillars of action: first, that not just through example, our leaders need to have the capacity and attitude to respond for their actions to the people. Then, there's must be a link through permanent debate and dialogue with the people, and for us to be in the places where the most complex issues are. Also, the leaders must be able to use social communication as a fundamental weapon."
Regarding the media, he admitted there had been "cases of too much praise:" "We haven't been able to reflect certain topics from the public agenda and we still have to find that connection between the public agenda and the media agenda."
"I think it's necessary for the revolution to be able to communicate with the younger people in Cuban society," he added, recalling his past as a youth leader and as a minister of Higher Education. "Fidel (Castro) strongly believed in (connecting with the youth), he went to universities when he wanted to discuss a problem," he said, recalling famous encounters at the Cadenas Plaza at the Havana University during the first years of the revolution.
In April, the Cuban National Assembly elected Miguel Mario Diaz-Canel Bermudez, a 57-year-old Cuban born two years after the island's socialist revolution, as the country's new head of the Council of State and therefore the president of the Caribbean country, succeeding Raul Castro.
---