Huge turnout for solidarity with Latin America at a crucial time
Campaign News | Tuesday, 4 December 2018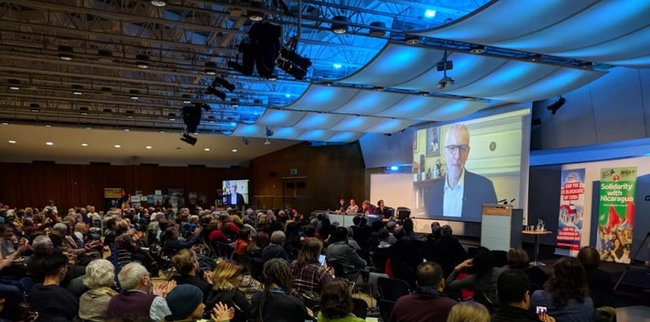 "Adelante! La lucha continua" - Leader of the Labour Party Jeremy Corbyn MP sends video message to the Latin America Conference whilst at AMLO's inauguration in Mexico
LATIN AMERICA 2018
A huge turnout of around 600 people attended the 14th annual Latin America Congress at the TUC's Congress House in central London – the biggest annual event of its kind in Britain – featuring over 75 politicians, trade unionists, ambassadors, academics, journalists and activist speakers including Dr Mariela Castro, Director of CENESEX (National Centre for Sex Education) and Cuban MP and a special video message from Jeremy Corbyn MP, Leader of the Labour Party.
This year's conference took place at a crucial time for Latin America, with Donald Trump's administration demonstrating an increasingly aggressive and interventionist foreign policy in the region, including White House National Security advisor John Bolton's recently labelling Cuba, Nicaragua and Venezuela as the 'Troika of Tyranny' and threatened that "their day of reckoning awaits".
The recent election of the extreme far-right President-elect of Brazil, Jair Bolsonaro, also poses huge threats to socialists, trade unionists, women, LGBT+ and indigenous peoples of Brazil and the wider region.
But Bernard Regan, CSC National Secretary, in the introduction to the conference highlighted how social progress in Latin America is not a one way trajectory – "Just look at the contrast between the far right's victory in Brazil compared to AMLO's landslide in Mexico", he said.
The CSC National Secretary referenced Cuban President Miguel Diaz-Canel's reply to Trump's recent attack on socialism at the United Nations: Inequality and poverty are the consequences of capitalism and neoliberalism, not socialism, Diaz-Canel replied to Trump's attack.
In hosting the Latin America in the Age of Trump plenary, former Guardian Foreign Editor, Victoria Brittain, said: "We are currently in the age of Trump. But we are also in the ago of resistance, as seen in the recent election of AMLO. We hope today will capture some of that spirit of resistance today".
This spirit was indeed captured by Guillaume Long, Former Ecuadorian Foreign Minister under Rafael Correa's administration.
"The Pink Tide was a success… it was a decade and a half of showing that there is an opposition to neoliberalism. It delivered economic growth, poverty reduction and the reduction of inequality", he said, and cited examples of growth such as Bolivia quadrupling its GDP and Ecuador doubling its GDP in the 'Pink Tide' period.
"I promise you, we will be back, we will win," he ended his speech with.
Dr Mariela Castro warned of the threats from the US foreign policy in Latin America region.
"For Latin America, whoever the President of the United States is, they are a problem. At the end if the day, whoever is elected in the US will respond to the interests of capital and the military."
"The arrival of Obama filled many with false hopes, particularly the young. He tried to change the image of the US, but for those with more of a political understanding, they were more grounded."
"We live in a very delicate moment with the Trump era. But we have lived many delicate moments in Latin America. We are a continent in resistance, and Cuba is about to celebrate 60 years of Revolutionary resistance," Mariela said.
Seminars
Guests had a packed programme to choose from at the conference in addition to the main hall plenaries and rallies, including 24 seminars, plus a film festival, book launches and browsing solidarity stalls.
One of the busiest seminars of the day was the standing-room only 'Rewriting the Revolution? Is Cuba giving up on socialism?, which focused on Cuba's new constitutional process that is currently taking place.
Dr Lauren Collins, said "In my opinion, this constitution, more than any before it, is about devolving power to the people"
"Cuba is not abandoning socialism", Dr Mariela Castro said in the seminar. "The 1976 constitution was very revolutionary at that point, but there has been lots of change over the last four decades and we need new mechanisms to reflect that.
"60 years of revolution has also been 60 years of learning", she said.
Teresita Vicente, Cuban Ambassador, said "Let me be clear - we are not renouncing socialism. We are socialists, not social democrats".
In the Cuba60 – Building a Better World seminar, Bernard Regan, CSC National Secretary highlighted the achievements that have taken place in Cuba, despite the huge challenges posed by the US blockade "which has now cost Cuba over $933 billion over the last six decades", he said.
Mr Regan led a recent National Education Union (NUT Section) delegation to Cuba, where he recalled how the teachers saw first-hand the impact of the blockade, such as Cuba not being able to buy Braille machines, due to them being manufactured in the United States.
The NEU (NUT Section) has sent a large number of Braille machines over to Cuba to help beat the blockade, including 12 machines donated during October's delegation.
NEU delegation members spoke at a lunchtime session about the importance of solidarity and what they learned from Cuba's inspirational education system, alongside a screening of the film 'Maestra' about the Cuban Literacy Campaign.
Teresita Vicente, Cuban Ambassador said "To understand the achievements of the Cuban Revolution over the last 60 years, you need to know our background. Cuba had been fighting for independence for over 100 years before the Revolution – it was a backyard for the US."
In a seminar, The Politics of Diversity – LGBT rights in Cuba, Mariela Castro said "90 percent of the constitution has been updated - but it's the article on marriage [marriage between two persons – updated from marriage between a man and a woman] that has led to the most public discussion.
"There are some Protestant churches in Cuba that are opposing same sex marriage – but the reality is that they are opposing the constitution as a whole.
"These churches receive funding from the US and their strategy is to try and stop the constitution.
"My view is clear - we have a secular state that cannot be challenged by any church. If we give in to pressure on same-sex marriage, the church will apply more pressure to change other parts of our society", she said.
Mike Jackson, Secretary of LGSM (Lesbians and Gays Support the Miners), whose character is portrayed in the film 'Pride' based on LGSM's support for the 1984 Miners' strike, spoke about his recent visit to Cuba to participate in the International Day against Homophobia (IDAHO) celebrations. Mike explained how the 'Pride' film was shown on Cuban television with a 20 minute introduction from Mariela Castro.
"The Cuba flag led the march, then the rainbow flag, then the LGSM banner - what an honour!" he said.
In a seminar on progressive youth movements in Britain and Latin America, medical student and Young Labour's representative on Labour's National Executive Committee Lara McNeill paid tribute to the medical achievements in Cuba.
Jack Youd, a Unite Shop Steward and former young trade unionist brigade delegate to Cuba said, "What does internationalism mean? In Cuba, their international solidarity is displayed by its tens of thousands of health workers around the world - more than the MSF and WHO combined". Ross Holden, a GMB official spoke about his experience on the young trade unionist brigade and how to build international solidarity with the region.
Young Labour International Officer Marcus Barnett, said "We want to fight for a Labour government that breaks the US blockade of Cuba - not one that gets into bed with Bolsonaro".
Adelante – la lucha continua!
In the final rally, Cuban Ambassador Teresita Vicente read out a message from members of the Brazilian community in Britain, recognising the heroic efforts of the Cuban doctors in Brazil over the last five years as part of the Mas Medicos (More Doctors) programme, who are currently returning to Cuba following threats from Bolsonaro.
The Ambassador warned of the threat from Trump's administration: "Trump has threatened to invade Venezuela, with the Organisation of American States complicity - or the Minister of Colonies, as it should be called", she warned.
A video message from Venezuelan Foreign Minister Jorge Arreaza was broadcast, where he explained that in this period of attacks on the left in Latin America, receiving international solidarity is crucial to ensuring the future of the progressive cause.
Dan Carden MP, Shadow Secretary for International Development, told delegates to "be sure" that the Labour Party under Jeremy Corbyn would "support self-determination and social progress" in Latin America.
Carden said: "Trump has no right to promote regime change, whether that be in Bolivia, Cuba, Nicaragua, Venezuela or anywhere else.
"This shouldn't be controversial — it is a statement of international law.
A video message from Jeremy Corbyn, Leader of the Labour Party, was met by huge applause: "I can't be with you today, because this weekend I'm in Mexico. I've been invited to join the inauguration of the new president, Andres Manuel Lopez Obrador (AMLO)", he said.
"AMLO's landslide win offers the poor and marginalised a genuine voice for almost the first time in Mexico's modern history. And at a time when the far right is rising in America and all over the world, AMLO's historic win shows us that a progressive, socialist agenda for change can and will win power, and overturn the status quo."
Corybn ended his message with a rallying call of "Adelante – la lucha continua!"
Steve Turner, Unite Assistant General Secretary, gave a barnstorming speech to finish the conference.
"As well as affiliating to and joining solidarity campaigns we must take the message of solidarity back into our union branches, workplaces and communities."
"All trade unionists should get involved in solidarity campaigns- building international support for progressives in Latin America is part of the fight for a better world", he said.
Further reading and resources: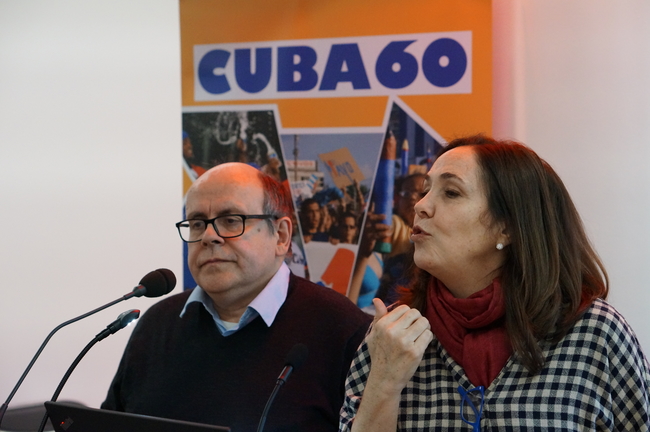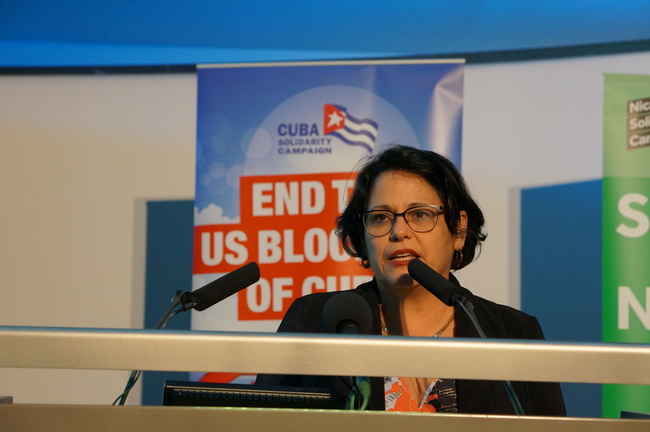 ---