AMLO Holds Fraternal Meeting with Cuba President
Escambray | Wednesday, 5 December 2018 | Click here for original article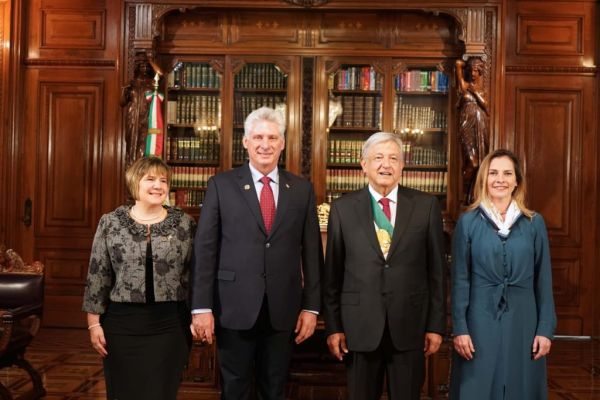 The meeting took place after the inauguration ceremony of the new Mexican President, which was attended by 20 Heads of State
Miguel Diaz-Canel Bermudez, president of the Councils of State and Ministers, and Andres Manuel Lopez Obrador, his Mexican counterpart, held a meeting after the inauguration ceremony of the latter, which was attended by the Cuban leader as one of 20 heads of state in attendance.
Affectionate meeting with Mexican President López Obrador and his wife. Cuba and Mexico are brother peoples. Our governments share the will to strengthen even more the relations of friendship and cooperation, Diaz-Canel wrote in Twitter.
Upon his arrival in Mexico, the Cuban leader told the press that in his meeting with López Obrador he hoped to convey Cuba's willingness to strengthen the commercial, economic and other ties that historically unite both nations, as well as to collaborate in the integration of Latin America and the Caribbean.
During the inauguration speech, the Mexican president said that in his projection of government for international relations, respect for self-determination and the sovereignty of countries will prevail, and he will promote cooperation.
I will not stop thinking about Bolívar and José Martí, who along with Benito Juárez continue to guide peoples and leaders on the continent, said the leader of the MORENA party, who conveyed a greeting to heads of state in the region, including Diaz-Canel and the people of what he called the sister republic of Cuba.
Mexico is the second largest trading partner for Cuba in Latin America and the Caribbean and the fifth largest in the world, as well as one of the pioneering nations in foreign investment in Cuba, with which it promotes triangular cooperation aimed at countries in the region with lesser economies.
In recent years, after the relaunching of relations with the presidency of Enrique Peña Nieto, the two countries have expanded financial collaboration, trade, investment, tourism and health.
Recent milestones in the relationship include the visit of Army General Raúl Castro in November 2015 and the presence of the Cuban medical brigade Henry Reeve, to attend to emergency tasks following the earthquakes in Mexico in September 2017.
---