Cuban President praises Cuban doctors who returned from Brazil
CubaDebate | Sunday, 23 December 2018 | Click here for original article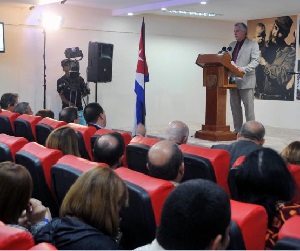 A quote from Fidel presided the central act to mark the end of the Cuban Medical Brigade's participation in Brazil's More Doctors program, held this Thursday in Havana: "No one can sabotage Cuba's cooperation with other Third World countries. Facts and not just words. Fast action and not waiting indefinitely when there are human beings from poor countries who are dying every day at all hours."
"You are a symbol of the country that trained you, and offer examples of the types of men and women we aspire to in Cuban society, based on justice and humanism, not on survival of the fittest," stated the President of the Councils of State and Ministers, Miguel Díaz-Canel Bermúdez, at the act to honor doctors who returned to Cuba after fulfilling their mission in Brazil.
"The return to the Homeland is not the end, it is a beginning. You arrive at an important moment for Cuba, when we are about to approve the new Constitution that will be submitted to a referendum on February 24," the President stressed.
"You who return to your work centers or leave to fulfill other missions are part of this people that offers us acts of heroism. On behalf of the Party and the government, I would like to reiterate that we are deeply proud of each one of you, as we are of the rest of the health collaborators carrying out missions in 66 other countries," he added.
The ceremony was held in Havana's Central Medical Cooperation Unit. Also present were: José Ramón Machado Ventura, Second Secretary of the Communist Party of Cuba Central Committee; members of the Party Political Bureau: Roberto Morales Ojeda, vice president of the Councils of State and Ministers; and Bruno Rodríguez Parrilla, Minister of Foreign Affairs; as well as Minister of Public Health José Ángel Portal Miranda.
Medical collaborator Indira García Arredondo, who returned to the island after providing her services in the state of Sao Paulo, noted on behalf of her colleagues: "The fierce campaign that we all experience, the permanent invitation to bow down, the carrot promised by false prophets of freedom and democracy, which they themselves have trampled over a thousand times. But they were wrong… Our work culminated with results that even our enemies have not been able to conceal. We transformed health indicators and improved the quality of life of millions of Brazilians."
The ceremony recognized the organizations that supported Cuba's participation in the More Doctors for Brazil program, and the return of Cuban doctors to the country in just 20 days: the Ministries of Foreign Affairs, Foreign Trade and Investment, Transportation, Public Health; the Central Bank of Cuba, the General Customs Office of the Republic, and the mass media.
---