"The policy is now regime change for Cuba" says former US diplomat
CBS News | Thursday, 7 February 2019 | Click here for original article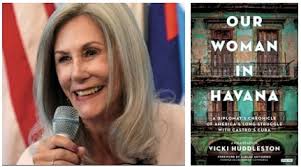 A former US diplomat with links to the CIA has warned that the situation in Venezuela could lead to a "confrontation" between the United States and Cuba.
Vicki Huddleston, who was former Head of the US Interests Section in Havana in from 1999-2002, speaking in an interview to Intelligence Matters said that the Trump administration has adopted a much tougher stance towards the island under the advice of national security adviser John Bolton.
"I think most Cuba watchers and experts on Cuba believe the policy is now regime change for Cuba, as well as other countries in the world" she said, citing Venezuela and Iran as examples.
"The most damaging part of this is that it's going to make companies that are considering investment in Cuba hesitate and probably not invest," she continued. "And the end result of this is not only a harsher policy, but Cubans are already in an increasingly precarious situation. Medicines are scarce. Even food is scarce."
---