UNISON reaffirms solidarity with Cuba in 60th anniversary year
Campaign News | Monday, 8 July 2019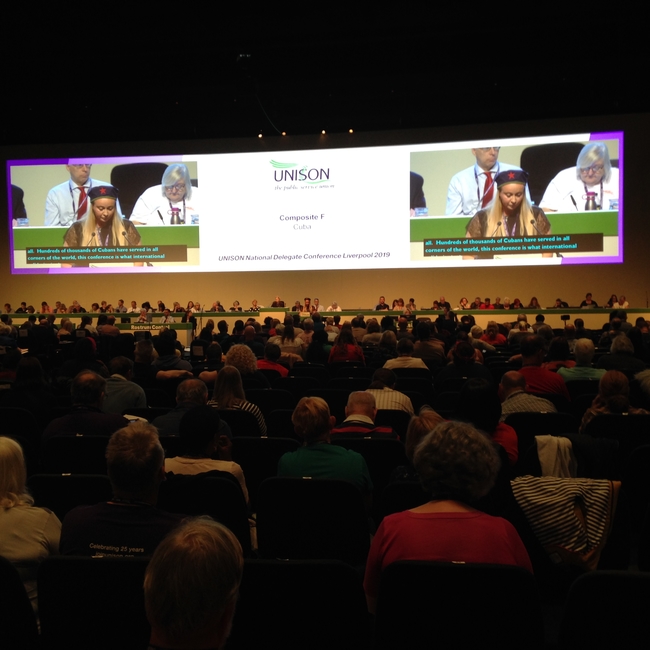 Unison delegates reaffirmed their support for Cuba at their annual national delegates' conference in June.
Praising the country's achievements in health, education and internationalism, conference also voted to call on the government to ensure British companies did not succumb to US pressure to reinforce the blockade by withdrawing investment.
Moving the motion, Scottish Region Convener, Lilian Macer, said: "As a health worker, I recognise since the Cuban Revolution that they have achieved a world-class health system on a fraction of the budget of most other countries, and despite suffering 60 years of blockade."
"I believe in Scotland and across the UK we have a lot to learn from the examples in the public health agenda with a focus on prevention," she added.
Isle of Wight delegate Yve White said: "In Cuba, nobody walks barefoot, dies of hunger, is illiterate from the age of six, or has to pay for education.
"Have they created a paradise? Far from it. Cuba is a poor nation, but a decent one whose people care deeply about humanity."
"In Cuba, the trade unions play an active role in all aspects of life," said North West delegate Tracy Delaney. "They are the organisations that helped draft Cuba's Labour Code legislation. They were consulted throughout the process, made amendments, and ensured workers' voices are heard."
Scottish Young Members Committee member, Ryan McLaughlin, who participated in the May Day Brigade, reminded delegates of the Trump administration's ultimate goal: "to deny the Cuban people their right to self-determination and to create another puppet of the US government."
According to Paul Glover, Chair of the International Committee, Cuba was a "beacon" to countries around the world.
"I am proud, on behalf of the NEC, to reaffirm UNISON's commitment to defend the achievements of the Revolution," he concluded.
On the eve of the debate, more than 150 delegates heard from Cuban medical brigade volunteer Dr Enmanuel Vigil Fonseca as he addressed a busy fringe meeting.
"Despite the huge challenges created by the US blockade, our people have expanded solidarity everywhere."
He outlined the work of Cuba's emergency Henry Reeve Brigade, and as a former volunteer in the 'Into the Barrios' mission in Venezuela, countered US propaganda. "Now the US spreads lies about us. We have 20,000 doctors in Venezuela, but they say we have 20,000 soldiers."
Yve White, Tracy Delaney and Lilian Macer, who moved the Cuba motion at national conference, gave a report back on the 2018 Unison delegation.
"I was inspired… I never saw anyone sleeping on the streets. I never saw any violence. I always felt safe.
"I now make sure that I tell everyone about Cuba!" said Yve.
Discussing the key role of trade unions in Cuban politics and society, Tracy Delaney thought that there was "a hell of a lot that we can learn from Cuba."
Lilian Macer talked about a visit to a polyclinic where they had asked what people needed. "We expected them to say technological equipment, but one of the things they said they really needed was more pens and paper, as they need these to make clinical notes."
Rob Miller, CSC Director, outlined the latest tightening of the US blockade legislation.
"Last week, Trump turned around cruise ships on their way to Cuba, literally overnight, demonstrating the power that the US has."
UNISON AGS Roger McKenzie chaired the fringe. "Nobody is saying we need to replicate Cuba here. But when we live in a country like ours, with child poverty across the country... we can learn from Cuba and the spirit of the Cuban people".
CSC would like to thank Thompsons Solicitors and UNISON Greater London, North West, Scotland and West Midlands Region for sponsoring the fringe meeting.
Read more:
Solidarity with Cuba is vital and can bring success: UNISON Scotland
UNISON salutes the Cuban people on the sixtieth anniversary of revolution: Morning Star
---