Cuba calls for urgent action on 'irreversible' climate change
Morning Star | Friday, 24 January 2020 | Click here for original article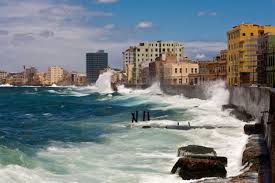 Cuba has warned that some of the effects of climate change are irreversible, calling for further global action to prevent an environmental catastrophe.
Foreign Minister Bruno Rodriguez Parrilla said that 2019 was the second warmest year on record according to World Meteorological Organisation data.
This followed 2016 being ranked as the warmest year showing a rising trend which he explained was due to "record levels of greenhouse gases in the atmosphere, endangering life on the planet."
"All of these events have blended together to make a significant impact on human and environmental health and wellbeing, as highlighted in the Meteorological Organisation's Interim Statement on the State of the Global Climate in 2019, which was presented at the UN Climate Change Conference, COP25, in Madrid, Spain," he said.
Cuba was recently found to be the most sustainably developed country in the world, according to the Sustainable Development Index (SDI).
The index gives countries a human development score by looking at statistics on life expectancy, health and education, by its "ecological overshoot," the extent to which the per capita carbon footprint exceeds Earth's natural limits.
Based on the most recent figures, from 2015, Cuba is top with a score of 0.859, while Venezuela is 12th and Argentina 18th.
---