More sanctions imposed by Trump administraion
News from Cuba | Thursday, 4 June 2020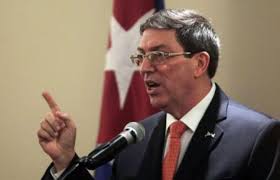 Cuban Foreign Minister Bruno Rodríguez has strongly rejected the sanctions announced by the US Secretary of State, Mike Pompeo, against seven entities on the island.
In his Twitter account, Rodríguez denounced that the measures are aimed at affecting Cuban families, and described Washington's effort to intensify the blockade against island as shameful and criminal amid efforts to defeat the pandemic of the Covid-19.
I strongly reject the sanctions announced by #US Secretary of State Pompeo against 7 #Cuban entities, aimed at harming Cuban families.

Tightening the blockade during #COVID19 is both shameful and criminal.

— Bruno Rodríguez P (@BrunoRguezP) June 4, 2020
On 3 June, the United States government sanctioned three hotels, two diving centers and a marine park for tourists, as well as the financial institution Fincimex, under the pretext that they are military property.
The Cuban companies will be prohibited from doing business with US companies or citizens. The actions are part of Washington's effort to deprive the island of the resources necessary for its development, as part of the hostile policy and the economic, commercial and financial siege that it imposed almost 60 years ago and worsens after the arrival of Donald Trump in the White House.
FINCIMEX processes all remitances sent from the US to Cuba by Western Union (WU). Tightening the blockade and squeezing family income during this time of COVID-19 is especially cruel now. It comes a few weeks after the Trump administration imposed quarterly limits on transfers family transfers to the island, and stopped Cubans living outside of the US from using Western Union to transfer money home too.
The State Department statement says it "stands with the Cuban people" while at the same time introducing measures which effectively end all WU transfers to Cuba.
---