CSC to host post US election special discussion with José Ramon Cabaňas, Cuba's ambassador to the US
Campaign News | Thursday, 29 October 2020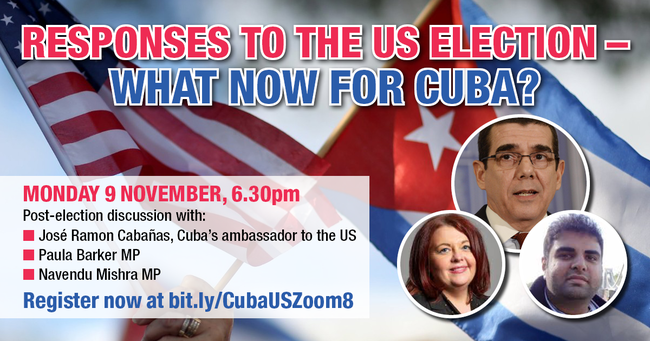 On Monday 9 November at 6:30pm, the Cuba Solidarity Campaign will host a post-election special with Jose Cabanas, Cuba's ambassador to the United States.
The discussion will cover the impact of four year's of the Trump presidency on the economy and people of Cuba, what the worst and best case scenarios might be for the next four years under a Biden or Trump administration, and what role international lawmakers and campaigners have to play in helping to bring about an end to the illegal US blockade.
Guest speakers include:
José Ramon Cabaňas became the first Cuban ambassador to the US for 50 years in 2015. He began his mission in the US capital in 2012 and has witnessed the détente between the US and Cuba under President Obama and the complete reversal in policy under Donald Trump. He was also present in April 2020 when 32 shots were fired at the Cuban Embassy in Washington.
Paula Barker MP represents the constituency of Wavertree in Liverpool and was elected in 2019. Previously she was North West Convenor for Unison. Paula has recently nominated Cuba's Henry Reeve International Medical Brigade for the 2021 Nobel Peace Prize.
Navendu Mishra MP has represented the constituency of Stockport since 2019. Previously he was a shop-floor trade unionist and an organiser for Unison. As a young trade unionist he was a delegate on the 2016 May Day Brigade to Cuba in 2016.
Also in attendance Bárbara Montalvo Alvarez, Cuban ambassador to Britain.
Share on twitter
---