Cuba's Painted Snail wins second place in Mollusc of the Year competition
Senckenberg | Thursday, 4 February 2021 | Click here for original article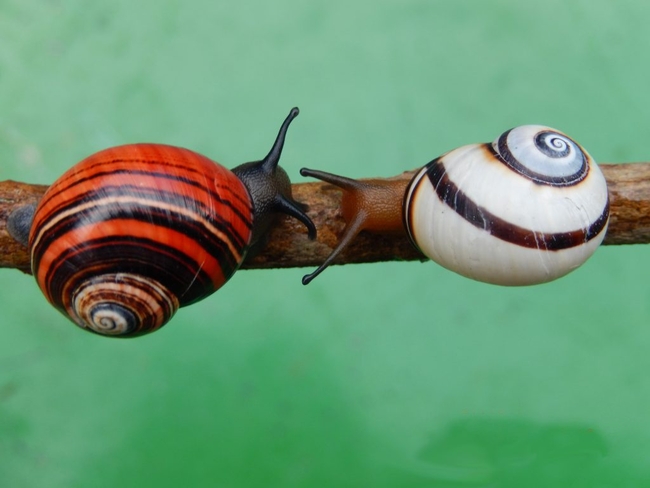 Cuba's Polymita picta, a colourful snail unique to the island, has been awarded second place in the 2021 Mollusc of the Year competion, organised by the LOEWE-Centre for Translational Biodiversity Genomics and the International Society of Malocologists (mollusc researchers).
Polymita picta (Painted Snail)

What is it?
A unique but endangered Cuban snail famed for its vibrant shell colours and enigmatic love dart, a device to stab mating partners.
Where do they live?
Only in Cuba, along a thin strip of coast, eating mosses and lichens in trees by which they protect local agriculture, mainly coffee plantations.
What do they look like?
Possibly the most beautifully coloured snail shell in the world, 2-3 cm across, in yellow, brown, red, green, white, black, or orange, with elegant spiral bands. They are male and female at the same time, breed in the rainy season using an elaborate and surprising mating and live for around one year.
The snails are threatened with extinction due to habitat loss and poaching.
The Mollusk of the Year 2021 was selected from over 120 nominations submitted by international researchers and members of the public. The jury then selected five species that entered the second round as finalists. During this final round, the LOEWE-Centre for Translational Biodiversity Genomics website was open for the public to votes. The title "Mollusc of the Year 2021" was won by the Greater Argonaut (Argonauta argo). As a prize, Argonauta argo will get its whole genome sequenced at the LOEWE-Centre TBG.
"I would like to take this opportunity to thank all the finalists for this exciting and especially informative competition. Through their creative campaigns, we were able to learn a lot about these fascinating animals. Thanks to this project, we were able to get media attention for mollusks and hopefully bring the public a little closer to their diversity and beauty and raise awareness of their increasing threatened status." – said Dr. Carola Greve, Lab manager of the LOEWE-Centre TBG.
---