Governments of South Africa and Namibia nominate Cuban medics for Nobel Peace Prize
News from Cuba | Tuesday, 9 February 2021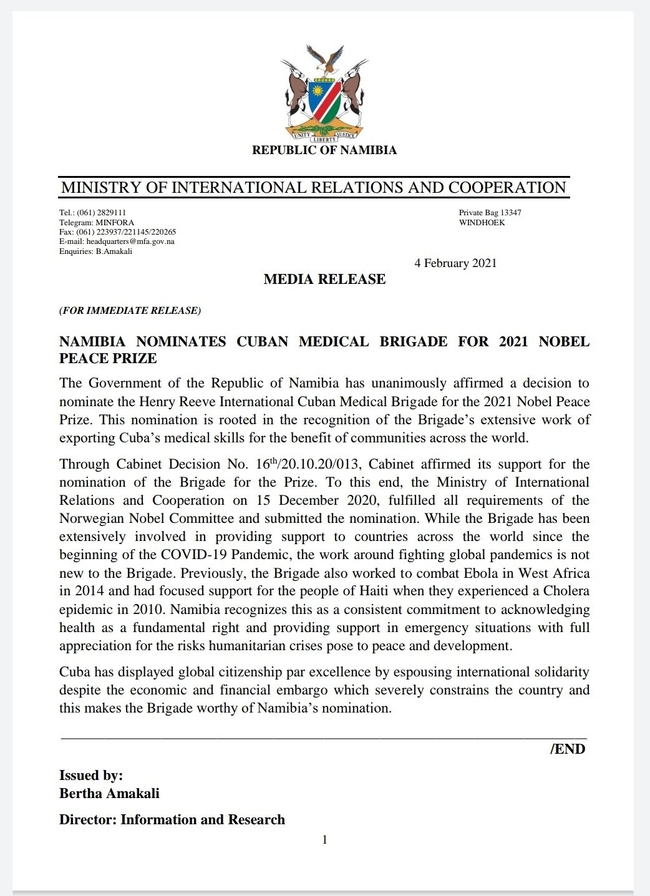 In February, Namibia's Ministry of International Relations confirmed the Namibian Government had officially nominated Cuba for the Nobel Peace Prize 2021.
In a press statement said: "Cuba has displayed global citizenship par excellance by expousing international solidarity despite the economic and financial embargo which severely constrains the country and this makes the brigade worth of Namibia's nomination."
President Cyril Ramaphosa of South Africa also announced that his Cabinet had approved a proposal to nominate the Cuban Medical Brigade for the 2021 Nobel Peace Prize.
During a press conference on 1 February he stated: "This evening, I wish to recognise in particular the selfless and unwavering assistance of the government and people of Cuba.
"True to its history, this small island nation has demonstrated solidarity with the hardest hit countries and sent more than 3,700 Cubans throughout the world to assist in the fight against Covid-19.

"In Africa alone, the Brigade had treated more than 38,000 people by the end of November 2020. They are currently still active in many countries, including here in South Africa.
"We extend our sincerest gratitude to the people of Cuba for this great demonstration of solidarity and humanity."
---