Cuba to introduce animal welfare law
CubaDebate(spanish) | Sunday, 7 February 2021 | Click here for original article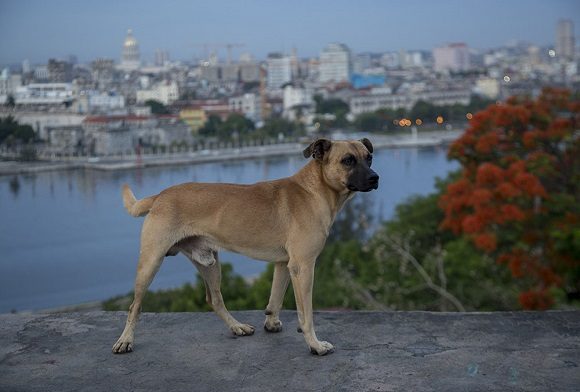 It is 11 am on a Wednesday in February and Nora has arrived from "a rescue". A man was capturing cats in cages to kill them for no reason and the neighbours reported it to the police. This morning the Association for the Protection of Animals and Plants (Aniplant), has gone to intervene in the situation. The organisation celebrated its 34th anniversary in February 2021.
During these 30 years, the team of Nora García Pérez has presented on three occasions an animal welfare project in Cuba, to achieve, among other objectives, that capturing and killing animals is punishable by law. This month such an animal welfare law was included in the legislative schedule which if approved, will see fines for animal cruelty of up to 7,000 pesos.
Aniplant and other groups, such as Animal Welfare in Cuba (BAC) and volunteers who have joined over the years, receive hundreds of complaints and concerns about abuse and abandonment of animals. During COVID-19, these events have increased.
It comes in waves, "explains Nora. When there is tourism, for example, rental owners throw out or try to put their animals up for adoption. "They tell us: 'If you can't pick it up, we'll throw it out.' But there is a very big mistake. Developed countries have laws and whoever does not like animals is obliged to respect them. Education, culture and state pressure have to ensure that the animal is respected ".
Nora, who is 75 years old and has loved animals since her mother put a hen in her corral with the chicks as a child, says that the people of Cuba have always been kind and respectful. "However, there can be abusive people anywhere. Throwing an animal onto the street for many people is not a crime. Hitting an animal to work, be it a bull or a horse, for many is not a crime. It is a goal to raise awareness that they do feel and suffer from a different approach than ours ".
In fact, for months Aniplant has been building lists of complaints from neighbors to find out who, when and how. "In order not to wait for the decree, we already have it accounted for. If there is a decree law and there are violations, it is assumed that there must be a body of people dedicated to analyzing and seeing the complaints ", she says.
The decree-law plans to address some aspects such as the offense and criminal treatment of conduct that violates animal welfare, the obligations of the owners and keepers of animals, issues related to animals companionship and control of street populations, the functions of the Ministry of Agriculture and local governments, fighting and the slaughter of animals, the use of euthanasia and the educational component.
But, are we prepared as a society for this decree law? How will we do so that it is not a dead letter? On this and other issues, Cubadebate spoke with several animal protectors on the island.
"We are prepared? We are not prepared, "says Nora. We have to learn how we live with a decree law that protects animals. We do not know, for many animals are the cat for the mouse, the dog for the child to entertain himself or to warn if there is a thief. Total, the thief poisons him, enters and steals ".
Javier Larrea Formoso, a law student at the University of Villa Clara and president of the Animal Welfare group in Cuba (BAC), believes that society is ready for most of the demands that will be reflected in the decree. "I say most of it because other demands are time dependent. The time in which society becomes aware of certain issues, in which it assimilates attitudes and processes that depend more on people's awareness than on a norm ".
"Once the animal welfare law decree is approved, it must be given the necessary publicity, because it is a norm that has been expected by an entire country, by the citizens, beyond an animal movement", suggests the activist. According to the latest records, BAC had 645 members and in 2020 carried out more than 3,000 responsible adoptions and rescues, exhibitions, workshops, deworming campaigns and cultural events.
People must know the different types of animal abuse and know that they will not go unpunished. Javier believes that these guidelines will allow us to live more every day in a Cuba that loves and respects animals. I think so, -he says- society is prepared to wait for this norm, because for a long time, more than 30 years ago, it has been advocating for the approval of an animal protection law in Cuba.
---