Cuba achieves its first title in world relay championships
On Cuba News | Wednesday, 5 May 2021 | Click here for original article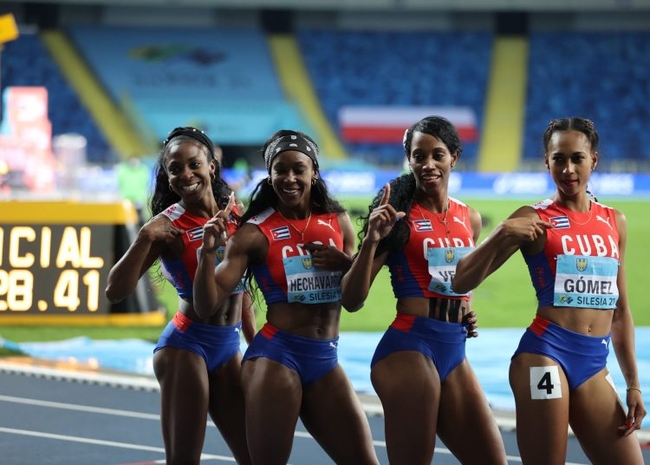 Cuba won for the first time a gold medal in a World Relay Championship when this Sunday the women's 4×400-meter relay team won the title in the world competition based in the Polish city of Silesia.
The relay made up of Zurian Hechavarría, Rose Mary Almanza, Lisneidy Veitía and Roxana Gómez entered first in the finals with a time of 3:28.41, to overcome in a close race the Polish quartet (3:28.81-silver) and Great Britain (3:29.27-bronze).
Behind were other quartets of world importance, such as the Netherlands (3:30.12), Italy (3:32.69), and Germany (3:33.00). Belgium (3:37.66) and France (3:40.58) closed the positions in the dispute for scepter, in which teams with results and tradition such as the United States and Jamaica were missed.
Already on the qualifying day, the Cubans had shown their ability to be the only ones to lower the 3:28 minutes (3:27.90), and get the fifth-best time of the season. That time was also the best achieved by a Cuban long relay team since 2012 and was a clear warning of what was seen in the finals this Sunday.
According to the Cubadebate website, on this occasion, the Cubans had to overcome a bad start, as their first athlete, Zurian Hechavarría, had the penultimate reaction time among the eight starters. Hechavarría delivered the baton with a time of 53.45 seconds, well below her mark of the qualifying rounds, a situation amended by Rose Mary Almanza, who with her 52.59 was the fastest among the runners in the second stage.
Lisneidy Veitía scored 51.41 in the third round of the track and handed the baton in second place to the young Roxana Gómez, who closed with 50.96, the second-fastest time in the competition, to conquer Cuba's first title in world relay championships.
As if that were not enough, in Silesia the Cubans secured their place for the Tokyo Games, since by being included in the finals of the event they guaranteed one of the Olympic places, as reported by the Cuban press. In addition, its time in the semifinals is the best for a national team so far this year, which would also be enough to certify their ticket to the Japanese capital.
In other World Championship results, Germany (56.53) dominated the short relay with hurdles and the men's 4×200m (1: 22.43). In turn, Italy (3:16.60) won the mixed 4×400 and the women's 4×100 (43.79). For its part, South Africa (38.71) was better in the men's short relay, while Poland (1:34.98) won in the 4×200 and the Netherlands in the men's long relay.
---